Dear Sansei, We miss you so much!
Would you please consider opening a restaurant near us?
Love,
Andy & Sheila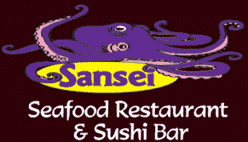 One of our favorite restaurants in Hawaii is Sansei Seafood Restaurant & Sushi Bar. We first fell in love with Sansei on the Big Island and since then we've looked for any opportunity to return.
I must admit, I'm still working on being a bit more brave with trying sushi. Honestly, there's nothing I've tried that I haven't liked, so I have no reason to be so unadventurous. Andy, on the other hand, would likely try just about anything. I think he and Anthony Bourdain would become big pals if the ever had the opportunity to meet. Sansei's Restaurants are the perfect place for Andy and I to go, because I can always fall back on tame sushi-ish dishes like the Mango Crab [cooked] Salad Handroll in a Thai vinaigrette or the melt in your mouth Matsuhisa Style Miso Butterfish (photo).
Though Andy and I differ a tad on our spirits of culinary adventures, one appetizer that we both enjoy tremendously and never miss ordering is the Crispy Fried Calamari with spicy Japanese cocktail sauce. As a good ol' Southern saying goes, it's so good it would make your tongue slap your brains out. I've asked what's in the spicy Japanese cocktail sauce and was told it's a secret. The best way I can try to describe it is an Asian version of the best buffalo hot wing sauce. I bet a chef would cringe at my description, but it's the best I can do.
I'm grateful that you've grown to trust my advice here at Go Visit Hawaii, but you don't have to just take my word on this restaurant recommendation. Sansei Restaurants have won many awards. My Oahu foodie-friend, Melissa Chang, writes for the Honolulu Advertiser. She recently went on a sushi tour of Oahu and here's what she had to say about Sansei:
Some of the best and most creative sushi was at Sansei. I know locals don't think of Sansei so much anymore because it's in Waikiki, but if you get a chance, you should go. Their sushi rolls were very fresh and presented with artful flair.
You'll find a Sansei Seafood Restaurant and Sushi Bar on the islands of Maui (in Kihei and Kapalua), Oahu (in Waikiki), and the Big Island (in Waikoloa).
Sansei Restaurants seem to have fair menu prices. Appetizers start at $3, but I'd say most are in the $9 range. Entrees start at $16.
Here are few tips for you if you decide to dine at one of the Sansei locations:
Most of the locations offer special deals if you're seated at a certain time – either early or late. Call ahead and ask what their special discounts are. You can find the phone numbers from their Web site.
Andy and I recommend the chef's tasting menu, if it's offered. Usually, they are good deals plus it's a great introduction to Sansei's menu.
Sansei is popular with both locals (especially on the Big Island and Maui)  and visitors, so it's best if you make a reservation. If you happen to pop into a Sansei and there's a long wait, check for seating at the bar where you can access the full menu.
Have you been to a Sansei Restaurant and Sushi Bar in Hawaii? What was your favorite dish?