Be Prepared for Agricultural Inspection In Hawaii's Airports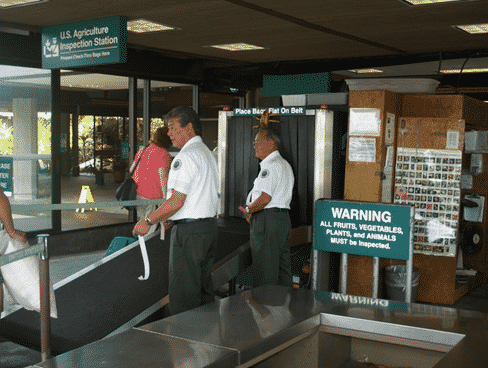 We've already reviewed the agricultural form that's required as you arrive in Hawaii, but what happens when you leave the islands? The process for checking luggage at the airports in Hawaii is a bit different than on the mainland. All mainland bound passengers must have their luggage inspected by the U.S. Department of Agriculture. The purpose of the agricultural inspection is to prevent the spread of fruit flies and other dangerous insects and diseases.
Here's what you need to know to be prepared for the agricultural inspection at the airport for flights to the mainland. (Note that this process in not required for inter-island flights.)
1. For the luggage you'll be checking, you must have your luggage pass agricultural inspection before you check in with your airline.
Locate the U.S. Agricultural Inspection Station by looking for signs that are located near the airline check-in desks.
Place the luggage that you will be checking-in on the conveyor belt for inspection. Note that your carry-on items are not to be inspected here. They will be inspected later in the process.
Declare any agricultural items to the inspection officers.
After inspection, the officers will place a sticker on your luggage to indicate that your luggage has been checked and cleared.
You may now check in at the airline counter.
2.  Your carry-on baggage will be checked after the TSA security check and before you go to your gate.
After you have cleared TSA security, you'll find a U.S. Agricultural Inspection Station just before you arrive at the gate area.
You must place all your carry-on items onto the conveyor belt for agricultural inspection.
After your hand luggage clears inspection, you are free to take it onto the gate.
The processes are fairly simple, but just a bit out of the normal routine on the mainland.
The following video provides and overview of the process:

For more resources:
See the USDA website which lists what is and isn't allowed. 

See this link about Hawaii agriculture inspection for arrivals and departures.
For further information, call the U.S. Department of Agriculture at 808-834-3220.