What to do when the airfare drops on a ticket you've already purchased
Have you ever shelled out the money for an airline ticket only to find out the fares dropped later? Did you know that you can request a refund or voucher for the difference?
Most US airlines have a policy that allows you to request a refund or voucher if the fares drop after you've purchased the tickets and before your flight. The trick is it's up to you to watch for the fares changes. The airlines won't watch it for you.
I've actually taken advantage of this policy with American Airlines several years ago. I had purchased a ticket to London and the fares dropped after my purchase. I was issued a voucher for the difference. The voucher was valid future travel only with American Airlines and within one year of the date of issue.
The USA Today has an excellent article detailing the various airline policies. Southwest Airlines has the best policy as they will issue a full refund. Most others will only issue a voucher for future travel at best. Here's the summary from the USA Today article.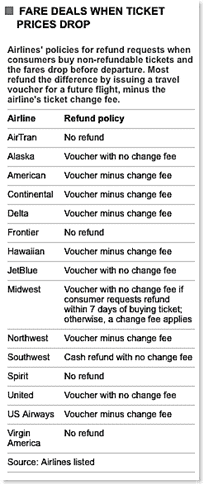 Have you pursued a refund or voucher from an airline for a fare reduction? What was your experience?
Hat Tip: SocialMonks