Hawaii Fact 6 of 50: Hawaii Has 5 Counties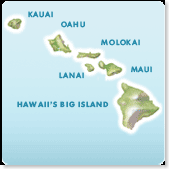 Though Hawaii is made up of eight major islands, the 50th State is organized into five different counties. The divisions and names might not be as intuitive as you might have guessed. Unless you are a Hawaii resident or a Hawaii nerd like me, you'll probably find some interesting surprises.
While we're looking at each county, I'll link to the county's Web site. I'd encourage you to have a look around the Web site for the county that you'll be visiting. These resourceful Web sites will help you find useful information for your vacation such as:
information on county beach parks and their facilities
parks where you can play tennis
how to obtain a camping permit
public transport schedules and routes
Where to recycle
As we explore the counties of Hawaii, we'll start North with Kauai and work our way South to Hawaii's Big Island.
Niihau and Kauai islands are part of Kauai County. This Hawaii county has a population of 63,689 with almost all people residing on Kauai island. Here is the county's official Web site.
The entire island of Oahu is Honolulu County. It is the most populated county with almost 905,034 residents, most live in the city of Honolulu. The official Honolulu county and city Web site is here.

Maui County consists of four islands – Maui, Molokai (with the exception of the Kalaupapa peninsula), Lanai and Kahoolawe. These islands are also referred to as Maui Nui which means 'Big Maui." The population of Maui County is approximately 143,574 with most approximately 93% of Maui County residents living on the island of  Maui. The island of Molokai is home to approximately 7,000 resident while Lanai has around 3,000 residents. Here is the link to Maui County's official Web site.
Kalawao County is the Kalaupapa peninsula of Molokai. It is by far Hawaii's smallest county in size and population with only 117 residents.
The largest Hawaiian Island, Hawaii's Big Island, is Hawaii County. In terms of land mass size, Hawaii County is bigger than all the other counties combined. Hawaii County's population is approximately 175,784 people. Their official Web site is here.
Population statistics source: 2008 US Census Bureau
—
To see other posts in this series of 50 Facts about the 50th State, click this link for this growing collection.