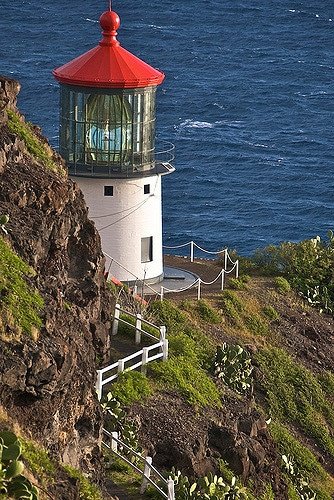 If you are looking for a beautiful sunrise hike on Oahu, I recommend the Makapuu Lighthouse Trail on Oahu's southeastern most point.  In addition to the excellent views of Makapuu Lighthouse along the trail, you'll also enjoy outstanding coast views from Koko Head on the South to Kailua on the North. You'll also see Makapuu's role in WW II history with the concrete pillboxes built into the cliffs. (See all our photos from hiking Makapuu Lighthouse Trail.)
In the winter months, Makapuu offers a great vantage point for watching Humpback Whales. Along the path, there's an educational plaque about Humpback's annual visit to Hawaii. We were there in February and unfortunately we didn't see whales. We did see dolphins, though.
On top of the great views, we enjoyed seeing lots of cacti. This section of Oahu is rather dry and only receives about 20 inches of rain per year. I don't typically associate cactus and Hawaii, so that was an interesting contrast.
I think the best time of day to hike Makapuu Lighthouse Trail is early in the morning, if possible to enjoy sunrise and the cooler temperatures. Note that taking this hike is an excellent way to use jet lag to your benefit.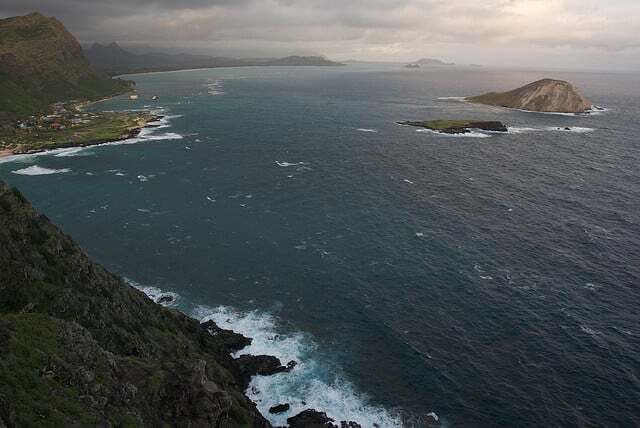 I would classify Makapuu Lighthouse Trail as a relatively easy hike. In fact, it's more of a semi-steep walk. The path is actually a road that's used to access and maintain the working lighthouse. (Note that no motorized traffic is allowed.) Since this trail is actually a road, it's wide and well paved except for a few steps at the trail's end.
Makapuu Lighthouse Trail is 1.4 miles one-way. It's not a strenuous trail, but note that you'll be gaining elevation all the way from the parking area to the trail's end. The elevation gain is gradual, though.
You'll find Makapuu Lighthouse Trail just off Highway 72, Kalanianaole Highway. See this Google Map and note the location of Makapuu Lighthouse Road. That's the trail. There is a parking lot for this trail. As always, make sure that you don't leave anything of value in your car.
If you don't have the time to walk the trail, there's a lovely lookout point that we describe here: Makapuu Lookout. From the lookout you will get to see the beautiful coastline, however you will not get to see the lighthouse.