Lanikai Beach – One of Oahu's Most Beautiful Beaches
With powdery white sand and many shades of ocean blue, Lanikai Beach is a stunner for sure. From this beach you can cast your gaze across the water to rest your eyes on the Mokulua Islands. Lanikai is the kind of beach that beacons you to stay, play and absorb the scenery. Even if you don't have an hour or two of beach time to enjoy this beach, you should at least plan to see it on your Oahu vacation or day trip/drive around Oahu. You won't be disappointed.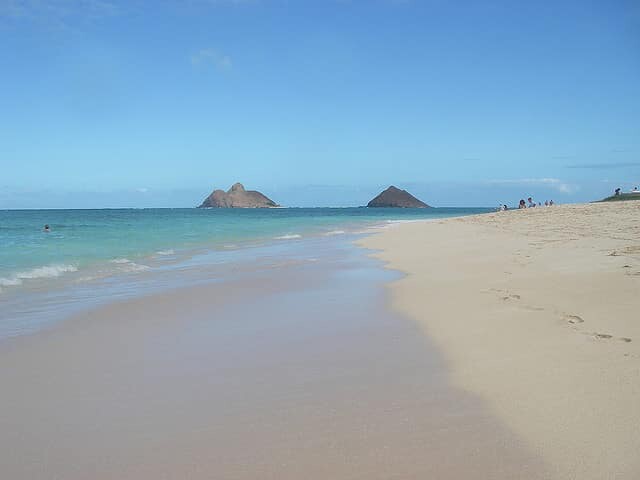 Lanikai Beach is located on the southeast side of Oahu just below Kailua Beach Park and above Waimanalo Beach Park. I think it's a little bit tricky to find as a first time visitor because all the private homes obstruct the view of the beach from Mokulua Drive which parallels the beach. If you don't know to look for Lanikai Beach, you'll most likely miss it.
If you want to print directions to Lanikai Beach aim for the intersection of Mokulua Drive and Kaiolena Drive. There's a  beach access path at that intersection. (See this Google Map for the street plan at Lanikai Beach.)
As a word of caution, it's worthing mentioning that some area residents are not the most enthusiastic about visitors as there isn't a specific beach parking lot for Lanikai Beach. You have to find side street parking and look for a beach path access. Please be considerate to the residents of the neighborhood by not blocking driveways and not parking in areas designated for no parking. If possible, avoid visiting Lanikai Beach on Saturdays and Sundays when this beach is the most crowded and most used by local residents. Note that street parking is prohibited around holidays and holiday weekends.
Snorkeling and kayaking are popular in the Lanikai and Kailua beach area. See my post on kayaking to the Mokulua Islands.
Unfortunately, there are no facilities at this beach, but if you need a restroom and showers, you can find them just a short drive North to Kailua Beach Park. By the way, Kailua Beach Park is beautiful, too and has a similar view out to the Mokuluas. If you'd rather not try to find parking and beach access  at Lanikai, Kailua Beach Park is the next best thing.
Just one photo doesn't do this beach justice, so see more photos from our visits to Lanikai Beach.