Hawaii Vacation Deals & News Roundup for May 6, 2009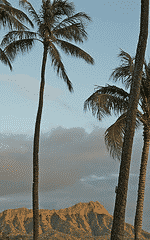 *  The most recent hotel occupancy reports indicate that Hawaii's occupancy levels fell to an all time low since record keeping began in 1987 per the Honolulu Advertiser.  Essentially, one third of all rooms were empty. Certainly, this news is bad for the hoteliers, but for you, the Hawaii traveler, this news benefits you with more enticing rates, more elbow room when you get there, plus a better chance for a room upgrade. Based on the new report, here are the average nightly hotel rates per island:
Oahu $147
Big Island $190
Maui $248
Kauai $193
*  Continental Airlines and Hawaii inter-island carrier, Mokulele Airlines have entered a code share agreement making it easier to book Continental flights beyond Honolulu in Hawaii.
*  If I hadn't just returned from Kaanapali Beach on Maui, I'd be tempted to snag this deal to stay at the Aston Mahana in Kaanapali. The deal is $179 for an oceanfront studio. The deal is valid for three-night minimum stays through August 24th. You must book by May 15th.
*  The latest blog Carnival of Aloha is posted at Homespun Honolulu.