Hawaii Vacation Deals & News Roundup March 13, 2009
* Did you know that Hawaii is the 2nd happiest state in the US according to survey by Gallup and an insurance company? (Source) I know going to Hawaii makes me happy. 🙂
* According to today's Pacific Business News article, Hawaii's average hotel prices experienced the sharpest drop in years. The statewide average hotel price was $196 per night, while the average hotel occupancy rate feel to 66% compared to the same time last year.   This news just reiterates that Hawaii is an exceptional vacation value and with extra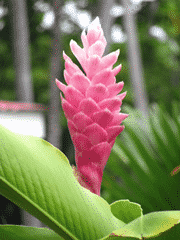 elbow room. Here are the average rates per island according to the January report:
Maui – $265
Kauai – $197
Big Island – $201
Oahu – $161
* If you are going to Maui and looking for some ocean excursions, you might like this deal that offers you a 50% discount off a second excursion when you book any Discover Lanai trip with Trilogy.
* The Wall Street Journal travel blog has an excellent post and video explaining how to use flexible searches to find the best airfare. I use the flexible searches each time I'm planning a trip to Hawaii.
* Today's beautiful photo of pink ginger was provide by Go Visit Hawaii reader ,Sherri Riddle from Southern New Jersey. Mahalo, Sherri!