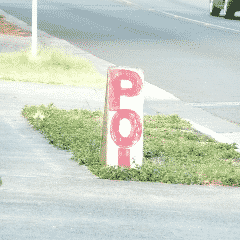 Now here's a sign you'll probably only see in Hawaii – a sign advertising homemade poi. This photo was provided by Kris who writes Big Island on the Cheap.
Seeing this sign leads me to wonder if you have you tried poi in Hawaii? What did you think of it? If you've not tried poi yet, then don't be afraid to dab a a spoon of it on your plate. To me, it has very little flavor, so don't worry about tasting strange. I think it tastes much like a potato that's been ground into a paste. I often see visitors squeamish about trying poi and I cringe when them turn up there nose.
Mahalo to Kris for submitting her photo.