Best Vacation Restaurants on the Big Island of Hawaii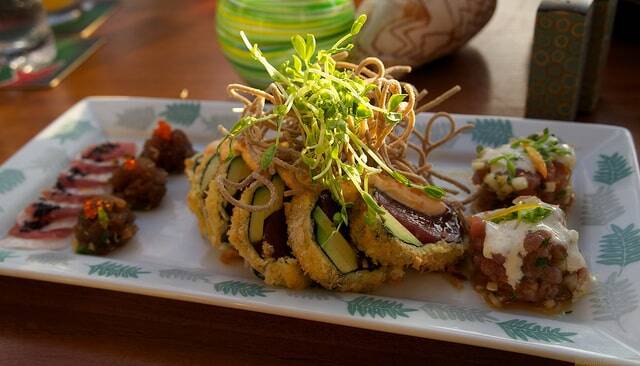 When we first started visiting Hawaii, the Big Island in 2004, we had a hard time finding great restaurants. Since then, the number of restaurants and the overall quality has improved dramatically. We've definitely found some winners.
We'll start with our personal picks and then move on to the wisdom of the crowds with TripAdvisor, and finish up with recommends from guidebooks.
Go Visit Hawaii Picks
The following restaurants are ones that we particularly like after multiple trips to the Big Island. We tend to focus on restaurants with great views and Hawaii regional cuisine. We don't take our recommendations lightly. In fact, we create this list as if we're giving it to our family and friends. For us dining is a big part of our Hawaii vacations and we want to make every experience count!
Best restaurants with ocean views:
Manta & Pavilion Wine Bar at the Mauna Kea Beach Hotel has beautiful ocean and sunset views. Every time we've dine here there was live music, which was sometimes accompanied with authentic hula dancing. This is a restaurant that would be good for celebrating a special occasion.
Brown's Beach House at the Fairmont Orchid is located right by the beach, with lovely sunset views. This is another good restaurant for a special occasion.
Lava Lava Beach Club is quite a bit more on the lively side with amazing sunset views. They usually have live entertainment. A few of the Lava Lava Beach Club tables are right on the sand.
Kamuela Provision Company at the Hilton Waikoloa Village is right on the water's edge.
Napua at Mauna Lani Beach Club is located beach front.
Naupaka Grill is the poolside bar at Westin Hapuna Beach Resort. It offers everything from shareable appetizers to small plates to casual fare. They have live entertainment most nights. Check their happy hour specials to save money.
Kona Inn in Kailua-Kona is a restaurant that we've not yet tried, but have heard great things about.
Excellent Hawaiian fusion cuisine without ocean views:
Merriman's in upcountry Waimea offers fantastically prepared farm-to-table, Hawaii regional cuisine with excellent service. 
Roy's Restaurant at Waikoloa Beach Resort. We've never had a bad meal at Roy's. I recommend you make reservations and if possible request a seat by the window next to the lake.
Sansei Seafood, Steakhouse & Sushi Bar in Queens Marketplace in Waikoloa is popular with locals and visitors. Check with them to see if they're offering either early bird or late night specials.
Best Malasadas: Tex Drive-In off Highway 19 in Honoka'a (near the mile 43 marker) Check it out if you are going to Waipio Valley and/or following our popular Big Island scenic drive from Kona to Hilo.
Some of Hawaii's More Unique Restaurants:
Best budget-friendly restaurants:
Best Hawaii-style pub: Kona Pub and Brewery in Kailua-Kona. We particularly like their kalua pulled pork nachos.
Yelp
When I first published this article, Yelp wasn't on our radar. Now we use Yelp at home and when we travel. It's a great place to check restaurant reviews. Their search feature helps you find exactly what you want in terms of location, meal time, pricing, indoor or outdoor dining and much, much more. Yelp is really our go-to for finding restaurants.
TripAdvisor
Thousands of TripAdvisor members rate Hawaii restaurants. I'll organize the TripAdvisor restaurant listings by geography. Some of the geography they use is a bit odd, but we'll make it work for us. We'll start on the Kohala Coast/Waimea area and work our way around the island counter clockwise. So as not to create information overload, I'll try to only list the areas that you'll likely be nearby.
Kohala Coast (Including Hawi, Waimea/Kamuela, Waikoloa)
Kona Coast
Hilo Side
Guidebooks
Big Island Luaus
See our Big Island Luau page for pricing, schedules, locations and reviews.
—————————————————————————-
Though this article was originally published in 2008, we keep it updated with each visit. Restaurants and chefs come and go, so we like to keep the list as up to date as possible.
Do you have a favorite restaurant on Hawaii, the Big Island? Please comment to share your favorite.