Coconut Fruitsicles — A Honokaa Sweet Treat
If you are on your way to see the Waipio Valley on the Big Island, may I recommend a stop that's along the way. Check out the quaint Hamakua Fudge shop in in the small town of Honokaa. If you have a sweet tooth, I guarantee, it will be satisfied here.
As the name would suggest the Hamakua Fudge Shop sells homemade fudge. Though their fudge is made with real butter and cream, we'd like to think we made the a healthy choice by selecting the dark chocolate macadamia nut fudge. (That's our story and we're sticking to it.) The owner told me that their most popular flavors are Kona mocha, lilikoi (a yellow passion fruit), and anything with macadamia nuts. She offered us samples to help us make our "healthy" selection. 🙂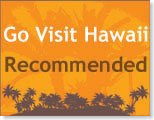 One thing you must not miss at this shop is their homemade fruitsicles. Oh my goodness! They are simply divine. These fruitsicles are like frozen popsicles, but with lots of real fruit flavor. We had a coconut cream fruitsicle and it was absolutely fantastic. If you like the flavor of coconut, you must try it. They make other popular fruit flavors like lilikoi, mango, strawberry, etc. I can't recall the cost of the fruitsicles, but I believe they cost us around $2.00 each.
The Hamakua Fudge Shop is located at 45-3611 Mamane Street (the main street) in Honokaa. They are open Monday through Saturday from 10am to 4pm. You can also find the fruitsicles made by Lisa at the Waimea Farmers Market on Saturdays.