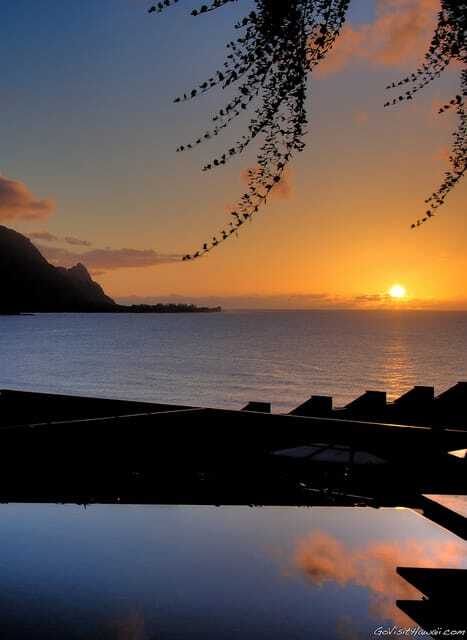 You're going to Kauai and you've reserved your hotel and now you're trying to pick out some good restaurants for your vacation. So, where do you start? Where are Kauai's best restaurants? How do you make your selections? Let me help take some of the pressure off you by providing you with some great Kauai restaurant resources.
1. Go Visit Hawaii Picks
Before I list the restaurants that we particularly like, I just want to remind you that I'm not compensated in any form for recommending these restaurants (or anything else that I write about, for that matter.)
We spend a lot of time researching the restaurants we choose for our own Kauai vacation. We read tons of reviews. Where possible, we like to find restaurants with ocean or other special Kauai views. We also focus our attention on restaurants that serve Hawaii regional cuisine. We can get great Italian or Mexican fare at home on the mainland, but we can't get Hawaii regional cuisine. That's why our recommendations are very much focused on Hawaii cuisine.
If we like the restaurants where we dine, we share them on the following lists that we've tried to neatly organize by category.
Most romantic Kauai restaurants with excellent Hawaii-regional cuisine, fine dining and ocean views:
Other Kauai fine dining restaurants featuring Hawaii regional cuisine, but without ocean views
Best family-friendly and casual dining restaurants
Best restaurants for local grindz (food)
The quirkiest restaurant with cheap eats (for Hawaii standards) would have to be the Puka Dog (Poipu). We like the puka dogs with mild garlic sauce, lilikoi mustard, but add relish on the side.
Best budget friendly-restaurants — we asked a couple of local residents to list their favorite places to dine in Kauai on the cheap. To this list, I would add some of the restaurants from the above list for local grindz — Kalapaki Beach Hut, Ono Family Restaurant, Kountry Kitchen.
Future Go Visit Hawaii picks?
We continue to keep this page updated with each visit to Kauai. In the meantime, we keep a running list of restaurants we'd like to try for next time. Here are Kauai restaurants that we've got our eye on.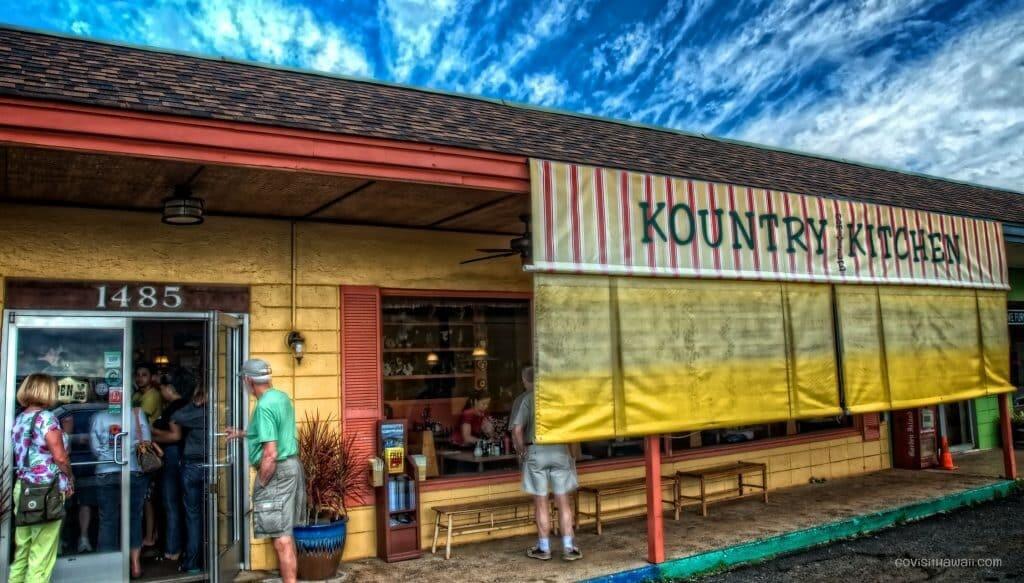 2. Yelp &  TripAdvisor
When I first created this page, Yelp was hardly known. Now I think that Yelp is an excellent resource for finding restaurants anywhere we travel.  I have faith in the wisdom of the crowds and I think Yelp and TripAdvisor are example of that. Now, I'm not naive enough to believe that every word of Yelp and TripAdvisor's reviews are 100% accurate. From time to time, I suspect that there are some fictitious positive and negative reviews. That being said, I still feel like they are very useful resources.
For Yelp, a good starting point is with this link. From there you can sort to the type of food, prices and location you want to find.
As for TripAdvisor, I'll save you some of the leg work and organize the Kauai TripAdvisor restaurant reviews by geography, which will help you find restaurants near your accommodations and sight-seeing plans. Here are the major towns as well as a few quaint areas of Kauai:
East Kauai Restaurants
North Kauai Restaurants
South Kauai Restaurants
West Kauai Restaurants
3. Guidebooks
I have always found the Ultimate/Revealed guides to be fairly trustworthy for restaurant recommendations. The Kauai version is called The Ultimate Kauai Guidebook.
—
I sincerely hope that this comprehensive list of Kauai restaurant resources will save you time and be a big help as you select your restaurants on your Kauai vacation.
We aim to keep this list updated as often as possible. We have most recently updated in October 2019.
Which Kauai restaurants are your favorites?