16th Annual World Fireknife Competition at Oahu's Polynesian Cultural Center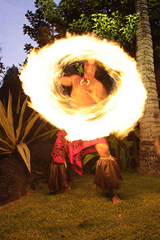 The Polynesian Cultural Center will be hosting the 16th World Fireknife Competition and Samoan Cultural Arts Festival from May 14th though 17th. If you are going to be on Oahu during this time, I highly recommend you make plans to see this exciting event, particularly if you can make it to see the Horizons evening show on May 17th. (By the way, I'm a big fan of the Horizons Show.)
Many luaus have a fireknife dance as the grand finale. It really is breath taking to watch. As you might imagine, these dancers are taking some pretty significant risks as the perform. The knifes are sharp on both ends and on fire. In a statement from the Polynesian Cultural Center, I was told that, "The fire is very real, and dancers often make contact with different parts of their body with only a short lavalava wrap around their waist. As any fireknife dancer will tell you, they do get burned, as dancers use no other form of protection."
Logo Apelu, vice president of operations for the Polynesian Cultural Center, says "Many of these competitors began learning the fireknife when they were just a child, picking up the practice fireknives at first. Unlike most children, though, these young warriors were encouraged to play with fire." Now you don't hear statements like that everyday, do you?
When the competition was founded 16 years ago, there were less than 30 competitors. Last year, more than 65 performers entered the competition with dancers entering from Japan, New Zealand, Guam and even the continental U.S.
Here are the ticketing details:
Admission to the Hale Aloha Theater events and the Samoan Cultural High School Arts Festival is $8 for adults, ages 12 and up and $6 for keiki ages three to 11. To join in on the final night of festivities, visitors must purchase a reserved seating ticket to either of the two Horizons night shows that evening, as the finals take place during the intermissions of both. Any full-day ticket holder can attend any of the special events with their ticket except for the final night, which will require a Horizons night show ticket. Ticket prices start at $43.00.

For more information or to make reservations, please call the Polynesian Cultural Center ticket office at (800) 367-7060 or visit the PCC Web site at www.polynesia.com. In Hawaii, call (808) 293-3333.
In the photo – Andrew "Umi" Sexton, the 2007 Fireknife Champion. Photo provided courtesy of the Polynesian Cultural Center.