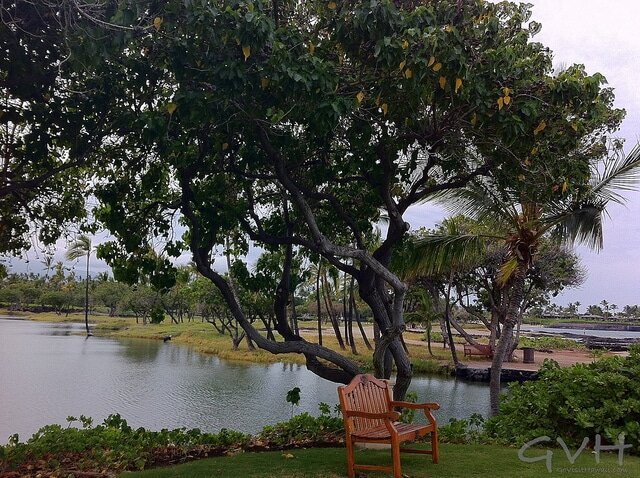 Ancient Hawaiians were geniuses at making it easy to catch a fresh seafood dinner. They built fishponds along the shores and water inlets.
The Hawaiians created rock walls that allowed sea water to ebb and flow into the ponds. They also included a gate into the wall that allowed small fish in and additional circulation of seawater. Once the small fish found their new home in the  fishpond, they would eat and grow to the point that they became too large to swim back through the wall.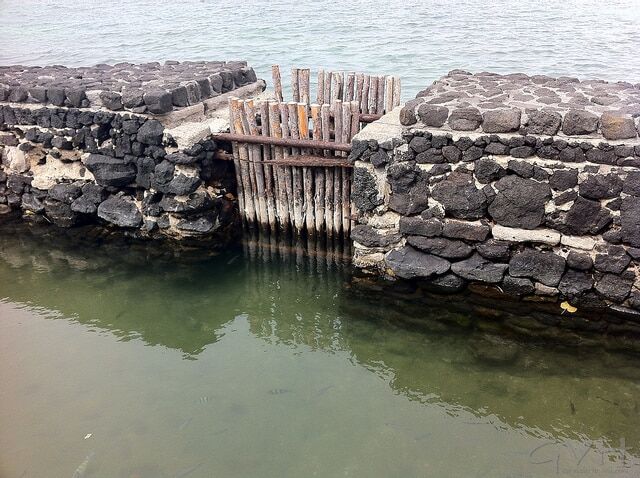 See this satellite view of Molii Fishpond on Oahu to get a better idea of how the ponds were shaped and constructed.  You can distinctly see the wall between the sea and the ocean.
Fishponds were a sign of wealth in Hawaiian culture. The fish from the ponds was primarily reserved for the ali'i, who were the chiefs.  If commoners were caught stealing fish from the fishpond, he or she was sentenced to death.
When you go to Hawaii, keep your eyes open to see one of these ancient engineering feats.  Here are some fishponds across the islands to look for:
Oahu


– Molii Fishpond – This pond (photo on left) is on Kualoa Ranch's private property, but you can take a guided tour to see it.  A tour fee applies.
– Huilua Fishpond at Ahupuaʻa O Kahana State Park (Click here for map.)
Kauai
Menehune Fishpond (Click here for map.)
Maui
The Koieie Fishpond near Kïhei is being restored.  You can learn about the restoration efforts and how you can participate here.
Big Island
–  There are seven fishponds at the Mauna Lani Resort.
– Kaloko Fishpond  at Kaloko-Honoköhau National Historical Park.  (Click here for map.)
– Heleipalala Fishpond at Puuhonua o Honaunau National Historical Park.  (See a previous post for more information on visiting Puuhonau o Honaunau.)
– Near the grounds of the Marriott at Waikoloa Beach Resort, you'll find several great examples of fishponds.
Molokai
Molokai probably has more fishponds than any of the other islands.  According to this site, Molokai has as many as 60 historic fishponds along the southern coast.  You can see these fishponds from Highway 450.
Lanai
– Loko Lopa Fishpond is at Lopa Beach and is accessible by four-wheel drive.