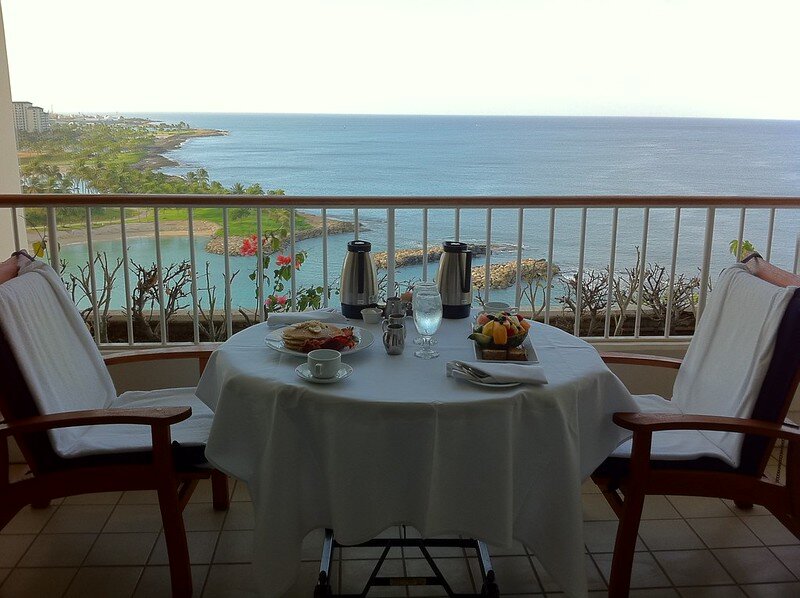 If you've been researching hotels or condos for a vacation in Hawaii, you may have come across the word lanai and wondered what that means.  A lanai is the Hawaiian word for patio or balcony.
Most hotel lanais are equipped with at least two chairs and a small table. The above photo is of the lanai from a room at the JW Marriott Ihilani on Oahu. (Note that in 2016 this resort was rebranded as a Four Seasons resort. See our updated review of this property of Four Seasons Resort Oahu at Ko Olina.)
We tend to spend a lot of time on our room's lanai in Hawaii, especially in the mornings and evenings. So, for us, finding a nice lanai an important choice when making our hotel or condo selection.
Your lanai is a great place to start the day with a cup of coffee or tea.  If you have a nice lanai, here's a little money saving tip for you couples — order one continental breakfast to enjoy on your lanai.  Most continental breakfasts are actually big enough to share.  You'll save money and have more privacy on your lanai as compared to getting an expensive ($20 to $45 or more per person) buffet breakfast in the hotel's restaurant.  Alternatively, pick up a few breakfast items and fruit in a grocery store for your breakfasts, you'll save even more then.  Breakfast items tend to be easier to find and store, but you might also want to consider having other meals on your lanai.
Many Hawaii restaurants have lanais for wonderful al fresco dining.  When possible, I always like to request seating on the lanai.
If you see lanai spelled with a lowercase L, that refers to the balcony or patio. If you see an uppercase L, that refers to the Hawaiian Island of Lana'i. This island is somewhat of a hidden gem and an off-the-beaten path Hawaiian Island. See my article, The Allure of Lana'i.