Maui's Kapalua Resort Hosts Mercedes-Benz Championship Golf Tournament

If you happen to be on Maui this week, take a drive west to the beautiful resort of Kapalua. When you see the resort on your left, keep going straight for another half mile and you'll see a right turn for The Plantation Course. If you're lucky, you might catch Vijay Singh, Phil Mickelson, Jim Furyk, or Mark Calcavecchia warming up for the 2008 Mercedes-Benz Championship–the prestigious annual golf event–made up of golf's 2007 tour champions–takes place December 31st 2007 to January 6th 2008.
Monday and Tuesday are golf professional practice days, with Wednesday reserved for a Pro-Am golf tournament. The Mercedes Championship first round is on Thursday, with golf's champion of champions crowned on Sunday. For $225 per person, The Plantation Course will let you view the golfing action from the exclusive The Lookout over Honolua Bay seating area. Perched behind the 11th tee with panoramic views of the 11th tee and green, 10th green, 14th tee and the spectacular backdrop of Honolua Bay, this seating area is limited to 250 spectators.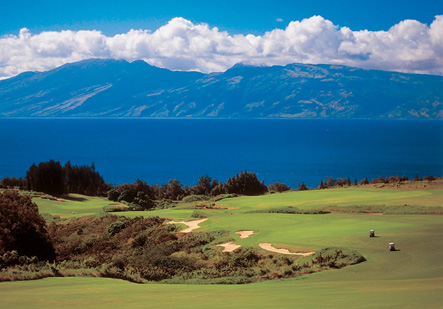 If you're not able to get a ticket or aren't lucky enough to be on Maui this week, don't get too upset. You too can play The Plantation Golf Course–you just have to wait until the pro golfers are done. Once they've celebrated and packed their bags, you can book your own tee-time and enjoy one of the finest golf courses in Maui–and all of Hawaii. The Plantation Course is beautiful and, as the photo opposite shows, has stunning views. It's certainly a challenging golf course, but even a hacker like me enjoyed playing it. There's nothing like teeing off at the 18th, and watching your ball roll 100 yards after it makes contact with the fairway–assuming it makes contact with the fairway. 🙂 You then get to take a slow walk to the green and pretend you're Tiger Woods–priceless!
The Plantation Course's green fees will set you back $295 for a full 18–$200 if you're a registered guest of the Kapalua Resort. For a bargain rate of $150 you can play the course in the afternoon using the special "Twilight" rate. A little cheaper, but just as nice, is the Bay Course–a sister golf course in Kapalua.
When you're done playing golf, be sure to head to the fantastic Plantation House restaurant for a meal. While the Plantation House is spectacular for a sunset dinner, their lunches are just as delicious, and you might even spot a whale or two in the distance.
Whether you can make the Mercedes-Benz Golf Championship, get a chance to play some golf yourself, or simply grab lunch at the Plantation House, be sure not to miss this gorgeous slice of Maui paradise!