Waikiki Christmas Eve and Day Brunches and Dinners
For what to do for Christmas in Waikiki and Honolulu this year , click this link: Waikiki Christmas 2019 — Holiday Dining & Events
———————————————————————————-
The following list is for 2007 for reference purposes ONLY.
Whether you are looking for a refined set menu or a lavish buffet for Christmas Eve and Christmas Day, you'll be sure to find something special across the restaurants and resorts of Waikiki. Here's a collection of special Christmas dining options in Waikiki Beach on Oahu:
Christmas Eve: December 24, 2007
Christmas Day: December 25, 2007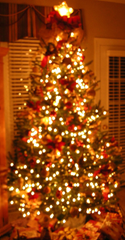 I will update this post as and when I discover more Christmas events. Stay tuned to all the latest unbiased news, reviews, and events for Hawaii visitors with free daily e-mails updates or via RSS subscription.
Are you looking for New Years Eve events? If so, check out what's going on in Honolulu to welcome in 2008.
Mele Kalikimaka!