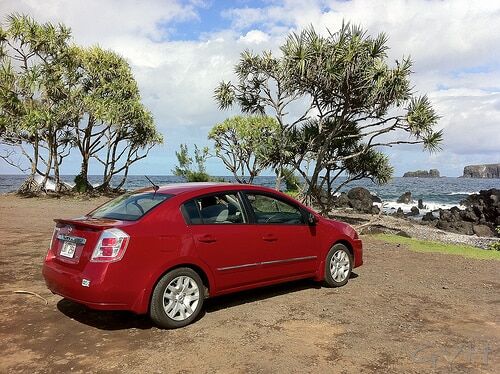 If Shakespeare was planning a vacation to Hawaii, I'm sure one of the first few questions he would ask is "To rent or not rent a car?" (Okay! I realize he didn't have rental cars back in his day, but just play along, would you please? 🙂 ) Many people ask that same question and the answer varies by island. I'll share my advice for rental cars by island below:
Oahu
I'll start out with the trickiest island first. Whether you need a rental car or not, largely depends on where you are staying:
If you are staying in Waikiki, you really don't need to get a rental car. Traffic and parking in Honolulu/Waikiki can be quite a challenge. (Who wants to be stuck in heavy traffic on their vacation? Not me!) You can take a shuttle bus to get to your hotel. If you'd like to do any tours, there are tons of tour companies that will arrange to pick you up at or near your Waikiki hotel. If you don't want to do any driving you don't have to in Waikiki, however, I do advise that you you rent a car for at least a day to drive around the island at your own pace. There are several agencies with offices in Honolulu and some hotels offer rental cars.  Read a more in depth article to help you decide if you need a rental car in Waikiki Beach.
If you are staying outside of Waikiki on Oahu, you would be very wise to get a rental car. Not only will a rental car help you with all the tremendous sight seeing, it may also save you money. Depending on where you are staying, you may end up saving money by renting a car for an entire week rather than getting a cab to and from your resort.
Oahu has the best public transportation system in Hawaii. So, if you don't mind adhering to a bus schedule with lots of stops, consider using TheBus. If you aren't sure which bus to take, then you can use Google Transit to help you navigate Oahu's bus system.
Kauai


The Garden Isle is best explored by a rental car. If you are staying on the North or South shore you should definitely get a rental car. If your budget is tight, you might be able to save some money by staying near the airport around Lihue. You could reduce the number of days you would need a rental car. The Kauai Marriott near Lihue offers complimentary shuttle service to and from the airport. The resort also has a rental car desk on-site which would make it convenient for renting a car for a day or two or three, rather than a week. I do advise renting a car for two days and planning one day for exploring the North shore and another day for exploring the South shore and Waimea Canyon and Kokee State Parks.
Maui
I definitely advise getting a rental car for Maui. I really can't even think of why you wouldn't want a rental car in Maui. Most resorts are about 45 minutes or more away from the airport, so it would cost a bundle just getting a shuttle to and from your hotel. Maui has much to see that's spread out, so definitely consider investing the money for a rental car here.
The Big Island
Without a doubt, you should rent a car on the Big Island. This fact may come across as being surprising, but the Big Island is actually big. 🙂 My ideal itinerary, includes staying on the Hilo side of Hawaii for about three nights and then spending a leisurely day driving along the Hamakua coast over to the Kohala coast for a relaxing stay of three or more nights.
Lanai


You really don't need a rental car on Lanai, particularly if you are staying at one of the two Four Seasons resorts. If you stay at one of those resorts, you pay a flat fee per person for unlimited shuttle rides. Though you won't need a rental car for your entire stay, I do advise renting a Jeep for a day to see all the best sites that can only be accessed via 4-wheel drive.
Molokai
You will need a rental car to get around while staying on Molokai. This island has the least amount of tourist conveniences such as large bus packaged tours which makes it a bit adventurous and charming.
Final Thoughts and Advice
The good news is that rental cars in Hawaii are relatively inexpensive on most islands. Four-wheel drives and convertibles tend to be pricier, of course. Gas in Hawaii is more expensive than on the mainland. On Molokai and Lanai, gas prices are considerably higher. For example we paid around $4.35 per gallon on Lanai when the average cost on the mainland was close to $3.00 per gallon in 2007.