Happy Aloha Friday – Nutty Edition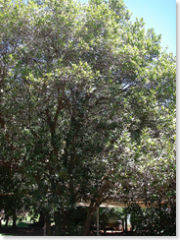 Ah, it's Friday! We had a fun response with last week's Aloha Friday, so I thought we'd try it again.
If you have a blog and would like to participate in Aloha Friday too, then go to An Island Life to check out the details. It's easy to do and a lot of fun to welcome in the weekend Hawaii-style.
Earlier, I shared some information on macadamia nuts and visiting farms in Hawaii. (The photo on the left is a macadamia nut tree, by the way.) So, I thought we'd continue the nut theme for this week's Aloha Friday. I love macadamia nuts, especially when they are milk chocolate toffee coated. They are so ono! (Ono is the Hawaiian word for delicious.) Are you nutty over nuts, too? What's your favorite nut?