Best Free Attractions and Activities On Kauai
Note: this article was originally published in October 2007. Since then, some sites that were free to visit are no longer free. We have noted those changes in the article.
I'm not sure how the quote "the best things in life are free" initiated, but this phrase is certainly true of Kauai's wonderful sights. Kauai is arguably the most scenic Hawaiian island. Hey, there is even a song about Kauai aptly entitled Beautiful Kauai!
Kauai is stunningly beautiful with its rugged green cliffs of the Na Pali Coast, uncrowded beaches and Waimea Canyon. You'll practically find a postcard-worthy scene everywhere you turn.
You really don't have to budget much money for tours on Kauai. You can stay busy for days just sightseeing independently. Here are my top suggestions for free or nearly free things to do and see on Kauai:
1. See Waimea Canyon and Kokee State Parks
[Important update: as of April 2021, a $10 per car parking fee as well as a $5 per person entry fee was added. So, sadly, it's not free to visit any longer, however, it's still worth visiting.] These two adjacent parks are phenomenally beautiful and not to be missed. You'll find many scenic lookouts that are easily accessed from the main road. If you're interested in diving a bit deeper into these surroundings, you'll find miles and miles of hiking trails that reward you with almost unimaginable views. For more information, see these details and tips for visiting Waimea Canyon and Kokee parks.
2. See the gorgeous waterfalls.
Now, who doesn't love a waterfall? Kauai has many picturesque waterfalls and most of them are easily accessible. The photo below is of Wailua Falls is my favorite. It's located on the East side of the island near Lihue.  Another pretty East side waterfall is Opaekaa Falls. Both of those beauties are part of the Wailua River Valley, which also offers more history and pleasant views. When you are on the North shore around the Princeville and Hanalei area, be sure and look towards the mountains to see many tall, pencil-thin waterfalls.
3. See the Beaches
[Update: Starting June 17, 2019, a reservation/shuttle/parking fee was implemented for the far northwest beaches. Learn more here. So, a few of the far northwest beaches are technically no longer free to visit.] I particularly love the quiet North shore beaches. Hanalei Bay and Anini are two very beautiful North Shore beaches that are accessible without a reservation, parking or entrance fee. Be careful as North shore beaches can have dangerous waves and currents, particularly in winter months (generally, November through March). When in doubt, it's best to watch the waves from the shoreline rather than get into them. Always check the Hawaii Beach Safety site for up to date conditions and warnings.
4. See Kilauea Lighthouse
This North shore site is another picturesque point worth a visit. See this link for a photo, directions and tips for seeing Kilauea Lighthouse.
5. Hiking
You must not forget to pack your hiking shoes for Kauai. You can search for hiking trails at this link. Kauai is loaded with many miles of rewarding hiking trails. My favorite hike is the Kalalau Trail along the Na Pali Coast, but unfortunately is no longer free to access due to a reservation and entry fee system that's been implemented to access Ha'ena State Park and Na Pali State Park. Unless you're super fit and like living on the edge, I wouldn't advise hiking the Kalalau any further than the first two miles in and then back out. (Beyond the first two miles, the trail requires a permit. This trail is a bit treacherous. A friend told me she had to grasp onto the side of a cliff and walk sideways at one portion of this trail that's beyond the two mile mark.)
Another favorite hike of mine is the Canyon Trail at Kokee State Park. It is a beautiful trail that takes you into Waimea Canyon for a 360 degree view of the canyon. Sadly, this park is no longer free to visit.
6. See Spouting Horn
Spouting Horn blow hole is probably the most dramatic blow hole you'll find across Hawaii. It is also one of the easiest to find and access. It's located on the South Shore.

7. See A Tropical Garden
With Kauai being dubbed the Garden Isle, a garden tour might be appropriate. Even if you don't have a green thumb, you'll surely be impressed with the variety of tropical blooms. Though there are two gardens (Allerton and McBryde) that you must pay to tour on the South shore of Kauai, there's ten beautiful acres around the visitor's center for these two gardens that are free to visit. Take note that the entrance to this garden is across the road from Spouting Horn, so it make make sense to visit the two on the same day.
8. Coffee Farm Tour & Tasting
Move over Kona, Kauai grows coffee, too! Near Ele'ele on the south side of Kauai, you'll find the Kauai Coffee Company, which happens to be the US's largest coffee farm. Stop in at the visitor's center for free coffee tasting and free self-guided walking  tour of the farm while learning about the Kauai coffee growing and roasting process. (See my article on visiting Kauai Coffee Company.)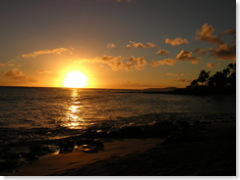 9. Watch sunset
Okay, I admit I may be sounding like a broken record, but watching sunset in Hawaii is something I advise everyone to do. It's such a relaxing and beautiful event to watch. It can be even more memorable when you have a sunset picnic. I particularly enjoy watching sunset from Princeville with the "Bali Hai" peak in the background. (Click here for a photo of sunset from Princeville.) Another place that's great for sunsets is Poipu Beach. We took the photo on the left during a sunset picnic at Poipu Beach.
10. See Kauai's Sleeping Giant, Nounou Mountain
On the eastern side of the island, you'll likely notice Nounou Mountain. This mountain looks like the profile of a giant sleeping on his back. Hawaiian legends say that local residents tricked the giant into eating food that had hidden rocks. The giant laid down to sleep and hasn't woken up since then. See our article on viewing Sleeping Giant.
In Conclusion
We've conveniently packaged all the above activities into a one week Kauai vacation itinerary and vacation planner.
So, as you can see, there are plenty of free activities on Kauai. You could stay busy for days just looking at beaches and waterfalls and hiking. You can also find quality entertainment on Kauai that's absolutely free. See our post on where to find free entertainment in Hawaii.
Please pardon this non-free moment, but I feel that I would be remiss if I didn't mention that there are some paid tours that you really must do when you visit Kauai. See this list of the 3 Kauai activities that are not to be missed. Those paid activities are unique to Kauai and worth the money, if your budget allows.
This article is the third in the series of the best free or almost free things you can do in Hawaii. In case you missed them, you can also read my top picks for Maui and Oahu free activities and Hawaii's Big Island.