A Hilo Vacation Rental Home with a True Picture Window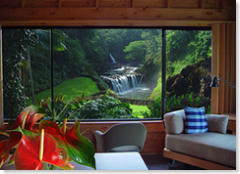 Just take a look at this fantastic waterfall view to the left. When I first saw that photo, I thought it was some sort of art and not a picture window showing a real waterfall view. You can actually rent the home that has this amazing view. I can just imagine how peaceful and relaxing it is to watch and listen to the waterfalls.
This home is privately tucked in a tropical rain forest very close to Hilo on the Big Island. When planning a visit to the Big Island, I like to advise staying at least three days on the Hilo side. There is so much to explore near Hilo – from the Volcanoes National Park on the Southeast to the abundance of waterfalls along the Hamakua coast and lets not forget the charm of Hilo town. As gorgeous as this home is, you would probably want to stay longer so that you can spend a day or two just staring out the window.
This rental home is called "The Falls at Reed's Island" and rates start at $296 per night plus taxes and clean up fee. The rates vary based on your length of stay. The Star Bulletin has a nice write up on this Hilo rental house.
Mahalo to Dave for bringing this story to my attention.