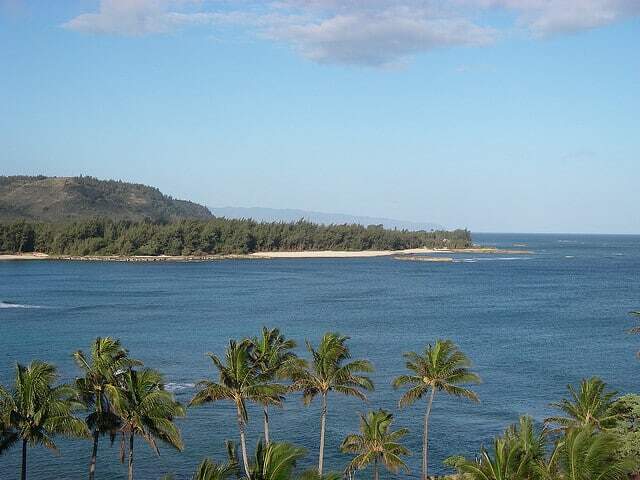 During a recent stay to Turtle Bay Resort, I overheard someone saying this, "Turtle Bay is great resort to stay at in Hawaii where you don't have to leave the resort."  I tend to agree.  Once you get to Turtle Bay Resort, you really don't need to leave it, and there's a good chance you wouldn't even want to leave!
What does Turtle Bay have to offer? Here is the listing of their extensive on site resort facilities:
Turtle Bay Resort is located on the northernmost tip of Oahu miles away from another hotel and the big city.  It is about an hours drive into Honolulu from Turtle Bay  Yes, it is remotely located, but that is what makes it so charming.
All Turtle Bay Resort rooms have ocean views.  The resort was built on a peninsula that almost seems like it's in the ocean. See this Google Map with a birds eye view of the resort to see what I mean about how close to the ocean this hotel is.
The rooms are well sized and most of them have generously-sized lanai.  The fresh, comfortable decor is what I would describe as "island modern."  We stayed in a Deluxe Ocean View Room.  (The photo on the left is of our room.)  The room had a comfortable king sized bed, more than ample closet space, two lavatory areas, in-room safe, free wifi, and a desk.  The room also had a TV, but we never had a need to turn it on.  The lanai was equipped with two chairs and a small table.
The room had a mini-fridge which was very useful.  I actually prefer having an empty fridge available rather than a stocked mini-bar.  If you were desperate for the typical mini-bar items, there is resort shop will all the snacks and drinks that you would find in a mini-bar.
Our room was cleaned daily and we had nightly turn down service.  The turn down service was a nice little touch, which included fresh baked cookies or chocolate covered macadamia nuts. They also provided a newsletter that listed the upcoming day's sunrise and sunset times as well as the weather forecast.  The newsletter also included a Hawaiian phrase along with sightseeing ideas and activities. Another nice turn down touch is that the staff would turn on relaxing music from the radio alarm clock.  The Sharper Image clock had a selection of relaxing spa-like music and sounds programmed into it.
Valet service was available, though it wasn't thrust upon you, which I liked.  There was ample self parking within easy walking distance of the hotel.
We enjoyed our stay, though there were a couple of things that we wish had been different.
The pool area was mobbed by screaming kids.  I don't begrudge kids having fun, but they were screaming and yelling at the top of their lungs and this wasn't the relaxing environment by the pool that I was hoping for.  I think the resort should designate one of their two pools a a kids' pool and the other as an adults' pool.  If that isn't possible, it would be helpful if the pool staff would politely ask children not to yell.
The hotel rooms don't have bathrobes.  We thought that this might have been an oversight from housekeeping in preparing our room.  We did ask at the front desk for bathrobes and they told us that they are normally only reserved for beach cottages, though they would check to see if they had any extras for us.  When we returned to our rooms later in the day, we had two bathrobes there.
Over all we really liked Turtle Bay and do hope to return someday, especially when the keiki (kids) are back in school.  🙂 For a splurge, we'd love to stay in one of the somewhat secluded beach cottages in the future. Celebrities often stay there.
For a bit of an update, see this guest post from Erin on her belated-honeymoon stay at Turtle Bay.
Check out our reviews of the spa and restaurants at Turtle Bay Resort.
See our photos from our Turtle Bay visits.