Polynesian Cultural Center – A Hawaii Must Do!
Imagine this – getting to visit the islands of Fiji, Tahiti, Aotearoa (New Zealand), Samoa, Tonga, Marquesas, and Hawaii all in one day!  You may think this is impossible, but it is true!  You can visit all these islands and meet their people all in one day at the Polynesian Cultural Center in Laie on the North Shore of Oahu.
The Polynesian Cultural Center is a feast for your eyes, ears and mind.  As you travel from island to island, you get to meet people from the islands who are dressed in colorful costumes.  They will show you their musical instruments, crafts, traditional dances, and ceremonies.  They will explain their customs and how they originated.
Music is a big part of every culture. At the Polynesian Cultural Center, you get to hear and learn about the musical instruments and styles. In Fiji, you help create the musical beat with bamboo drums. In Hawaii, you learn the fascinating history and origins of the ukulele, nose flute, steel guitar and slack key guitar from Cousin Benny. In the following video, Cousin Benny explains the origins of the Hawaiian nose flute.

The island villages show you their ancient games. You are encouraged to participate in the games if you like. For example, you can learn a game of spear throwing on Tonga.
Other interesting cultural exhibits include learning Tahitian weaving and Samoan coconut tree climbing.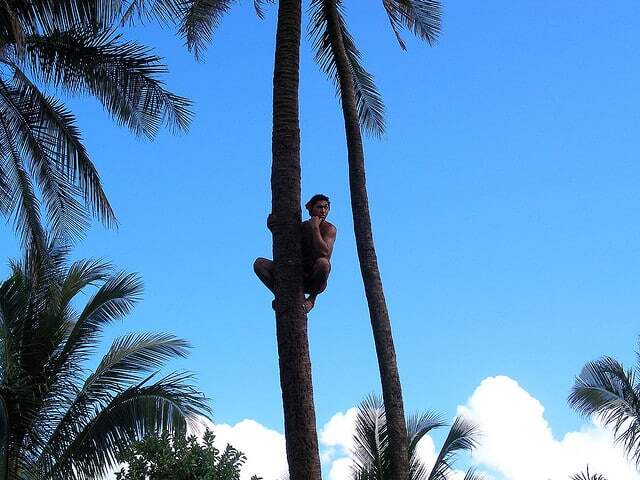 The warmth of the people from the islands is strikingly obvious and their willingness to share their culture was so engaging.  As an added bonus many of the performers and employees have a great sense of humor and will have you laughing as much as learning.It is clear that the Polynesian Cultural Center has taken great effort to preserve and authentically re-create structures.  Some of the buildings were constructed on their native island and carefully transported to Hawaii.  The Fiji temple (above photo) is one of only three in the world.  This temple is very noticeable because of its height.  The people of Fiji believe that the taller the temple, the closer to God they become.The Polynesian Cultural Center is one of those rare places that simultaneously entertains and teaches children and adults alike.  It is really a place that the whole family will enjoy.
If you are going, here are my suggestions for making the most out of your visit:
Spend some time perusing the Polynesian Cultural Center's website   It has a wealth of information about the center, the islands and the schedule of presentations.
You can save 10% or more by booking directly with the Polynesian Cultural Center's website when you book 10 days in advance.  They have a lowest price guarantee, so you can't go wrong by ordering direct.  They do offer a number of packages so review their options on their website to choose the option best for you. 

The island presentations start at 12:30 p.m., so aim to get to the center around noon or a little before.
Be prepared for the Hawaiian sun and heat.  Keep hydrated.  Wear sunscreen.  Bring a hat.
Wear comfortable shoes and clothing.
It is so difficult to pick a favorite island, but the ones I enjoyed the most were Samoa, Fiji, Tonga, and Hawaii.
Plan to take part in the award winning Ali'i Luau.  Some packages have this luau included.  For more information about the Alii luau, see my review.
Don't miss the evening show Ha: Breath of Life.  It is absolutely phenomenal!  I've seen several Polynesian music and dance shows across Hawaii and Tahiti, and Ha: Breath of Life is far and away the best one I've ever seen.
Some people are turned off that the Polynesian Cultural Center is operated by the Mormon Church. Personally, we didn't notice anything that even gave the appearance of pushing the Latter Day Saint's religion. Unless you opt to take the temple tour, you wouldn't even know that this site has a religious affiliation.
There is really so much to see and do at the Polynesian Cultural Center.  We only had a day there, but we wish we could have at least gone for another day, but our plans didn't allow it.  With certain tickets, you are allowed to return for FREE within three days.  What a generous offer!  For more information on how to get to the Polynesian Cultural Center, hours of operation, etc, see their list of FAQs.
Another final point worth mentioning is that the Polynesian Cultural Center is a non-profit organization that is "dedicated to preserving the cultural heritage of Polynesia while providing scholarships for hundreds of Polynesia students attending the adjacent university [BYU-H].  After completing their education, many return to their native islands to provide needed services and skills.  By visiting the Center, you contribute to their dream."  So with the price of your admission, you get great entertainment and help fund scholarships as well. What a rare opportunity!  Many of the student performers will mention this at the presentations and they are truly grateful for the opportunity.
I just can't say enough about how much my husband and I enjoyed the Polynesian Cultural Center.  So, do yourself a favor and plan to see it for yourself when you Go Visit Hawaii.