Check Out the Waipio Valley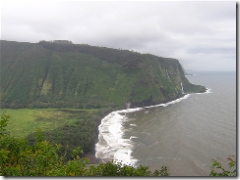 No trip to the Big Island would truly be complete without seeing the Waipio Valley. This lush canyon is an amazing spectacle with its steep walls, waterfalls, and black sand beach.
Of course you can enjoy the Waipio Valley from the overlook off HWY 240, though this awesome sight might best be absorbed with a hike as suggested by this Coastal Living article:
Visitors can tour aboard four-wheel-drive or all-terrain vehicles. But exploring on foot, on horseback, or in a mule-drawn wagon seems more appropriate for soaking in the majestic surroundings.
The article goes on to talk about a really cool sounding guided hike from Hawaiian Walkways. The hike is described like this:
This half-day route provides a rare opportunity to skirt the rim of the Island's most immense and best-loved valley. A private, historic trail takes us to places where we can securely view the ocean and the valley floor well over 1,000 feet below. Crucial times in the Hawai'i's past unfolded in the scenery at our feet: imagination comes alive as the guide's narration blends with the spectacular scenery to erase the bounds of time. The hiking is excellent: through rainforest and fields, across foot bridges over streams, by waterfalls and pools (bring your suit and towel!). The setting is unmatched anywhere.
After reading the article and perusing the Hawaiian Walkways website, I can't wait to go back to the Waipio Valley!
April 11, 2008 Update: I did get to hike with Hawaiian Walkways and it was fantastic! See my review of the Waipio Valley rim and waterfall hike.
Technorati tags: Hawaii, Big Island, Hiking, Waipio Valley