Going Nuts Over Macadamias – Visiting a Macadamia Nut Farm in Hawaii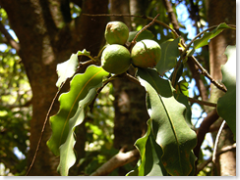 Did you know that macadamia trees are not indigenous to Hawaii? I didn't either until I met Tuddie,the owner of Purdy's Farm on Molokai. The macadamia nut tree is originally from Australia, but Hawaii is credited with creating the industry for the nut.
Tuddie enthusiastically shares his knowledge about growing macadamia in Hawaii. He showed us the entire life cycle of the nut from flower to harvest. I learned that the shell is protected by an outer green husk. I also learned that the leaves of the tree are stiff and reminded me of an extra large holly leaf.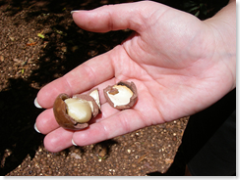 Tuddie encouraged us to crack open as many nuts as we wanted and eat them right out of the shell. That's how he sells most of the nuts from his farm. He doesn't use any additives, preservatives or oils to process them like the big producers do. If you are interested in trying all natural nuts you can order them directly from Purdy's Farm via this order form. Just bear in mind that you'll need to eat them within a month before they go bad because they have not been processed. Trust me, once you taste them, you won't have to worry that they'll be around for a month or longer. 🙂
Where to visit a macadamia nut farm in Hawaii:
On Molokai –
Purdy's Farm on Molokai is 2 miles west of Kalapuu on Lihi Pali Avenue. The visit is free. Their web site says they are open Monday through Saturday, but when I was there Tuddie said they are not open Sundays and Mondays. It's a very small family run business, so it would be best to call ahead and check on their current hours. The number is 808.567.6601.
On the Big Island –
Mauna Loa Visitor Center is located about 5 miles south of Hilo off of Highway 11. The center is free to visit Monday through Saturday, between 8:30 to 5:00. There are no guided tours, but you can take a self-guided tour and they have a slide show in the snack shop. It's not nearly as interesting and informative as Purdy's Farm is on Molokai, but if you have 30 minutes to spare when you're near Hilo, it's worth stopping in. Just beware, that you may see new flavors of macadamia nuts in the gift shop that you'll have to try. 😉
Hamakua Macadamia Nut Visitor Center also offers free self guided tours everyday from 8:00 to 5:00.  If you are staying on the Kohala Coast, this farm is a closer drive.
On Oahu –
On the windward eastern side of Oahu, there's a macadamia nut shop and tropical farm, Tropical Farms . They offer a wide range of inventive flavored macadamia nuts for you to sample. They're open daily from 9:30am to 5pm. See this map for directions.