On Maui, the major beach resorts are on West and South Maui where you'll beautiful beaches almost anywhere you look. In those resort areas, you'll find a range of accommodations from budget hotels and condos to 5-star hotels. Use this Maui virtual tour article to help you select the region you want to visit and where to stay.
Maui isn't quite as rainy as Kauai, but during the winter months (November through March), the island is blessed with a bit more rain and rainbows. Be sure and read my article, Where to Stay on Maui for the Best Weather to maximize your sunshine experience.
Maui's road to Hana, that hugs the East Maui coastline, is one of Hawaii's most scenic drives. You can drive this road beyond Hana and back from the West and South Maui resorts in a day. Ideally, this drive is best enjoyed if you can take it at a slow pace so that you can stop off at more points, take short hikes to waterfalls, etc. So, if your vacation time and budget allows, plan to stay a night or two in Hana.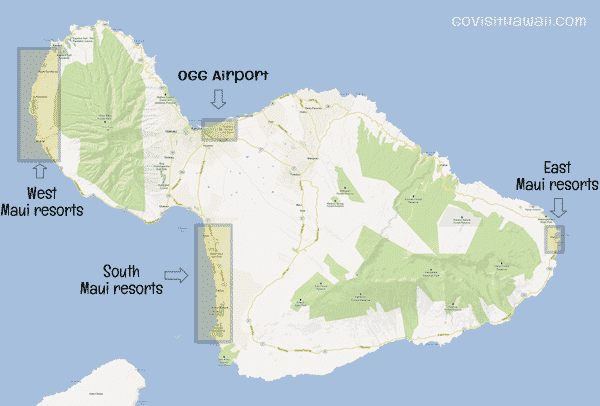 You really can't make a bad choice of where to stay on Maui if you choose a West or South Maui accommodation. The main difference between the two is that West Maui tends to be slightly more green and tropical, while South Maui is a bit drier.
These links lead to a brief overview of West Maui's main resort areas:

These links lead to brief overviews of South Maui's main resort areas:
As for East Maui, see our review of Travaasa Hana which is an upscale, but rustic resort. In addition to the hotel, you can also find vacation rentals.
As frequent Hawaii visitors, you might be interested in knowing where we have stayed. Here's our growing list with reviews attached:
Sheraton Maui in Kaanapali
Grand Wailea (Review to be written)
Kapalua Villas
Marriott Maui Ocean Club in Kaanapali
Hyatt Regency Maui in Kaanapali
Travaasa Hana on East Maui
>> Go back to the main page of the Maui Vacation Guide