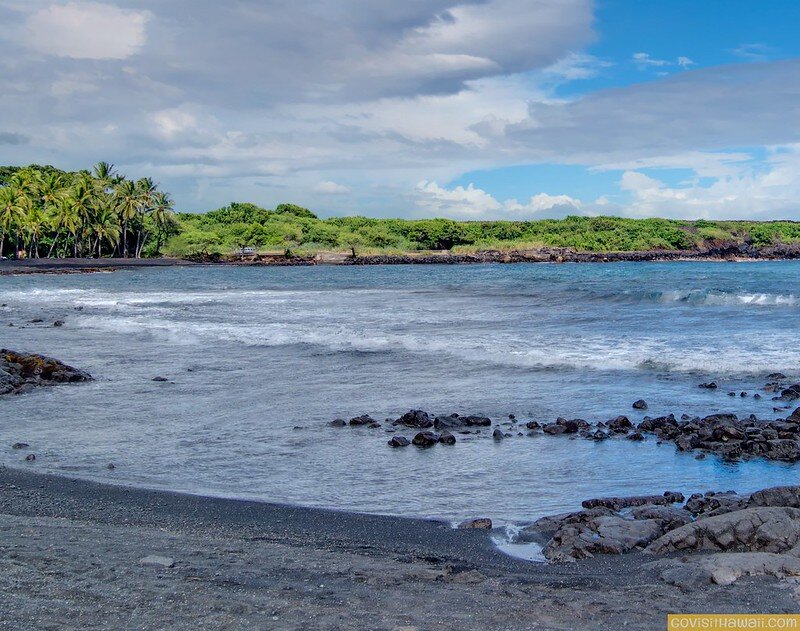 Punalu'u Black Sand Beach sits on the southern side of Hawaii (Big) Island. What a sight it is with green coconut trees flanking one side of this black sand beach and the ocean blues on the other side. There's something about the black sand that makes all the other colors come alive.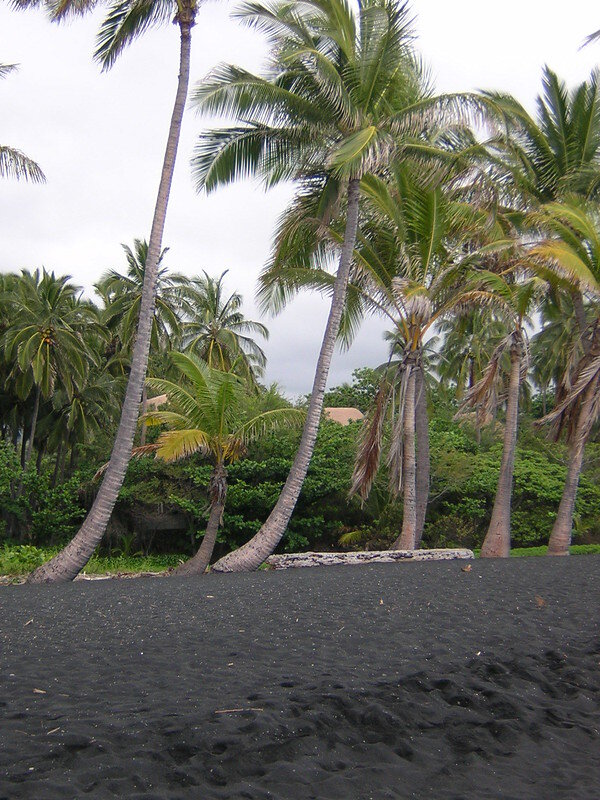 Sea turtles (honu) are known to frequently visit Punalu'u Beach. They'll come upon the black sand to rest. As a reminder, always keep a distance from  of at least 10 feet or 3 meters from honu.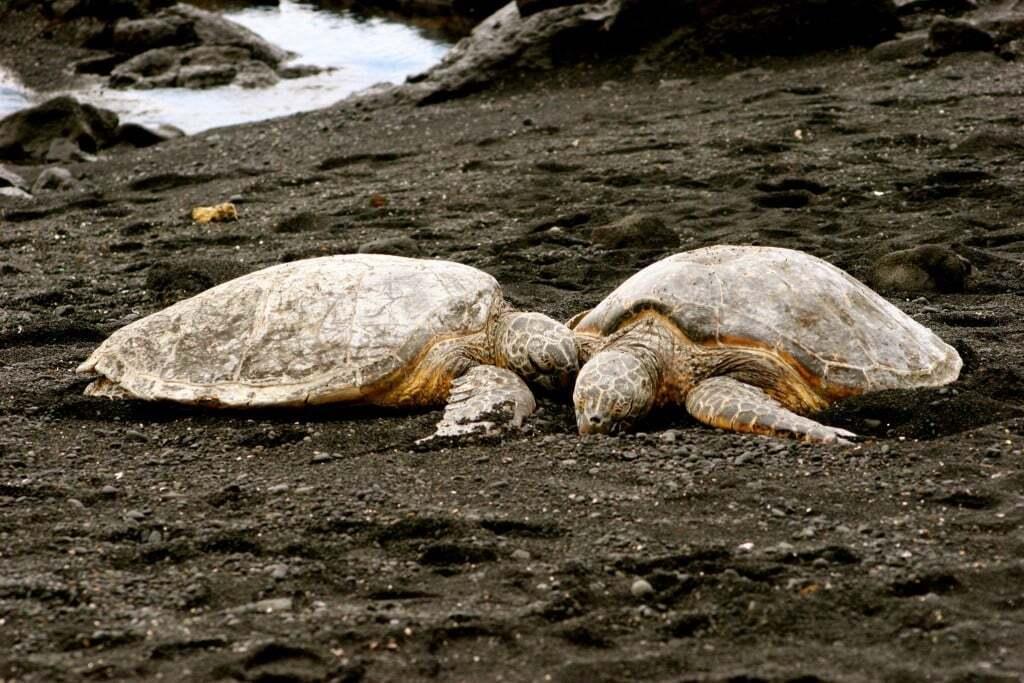 Sometimes the honu can seem almost camouflaged on the black sand. So, do be mindful of where you're walking when you visit here. Our friend Mat almost accidentally stepped on a honu during one of his visits.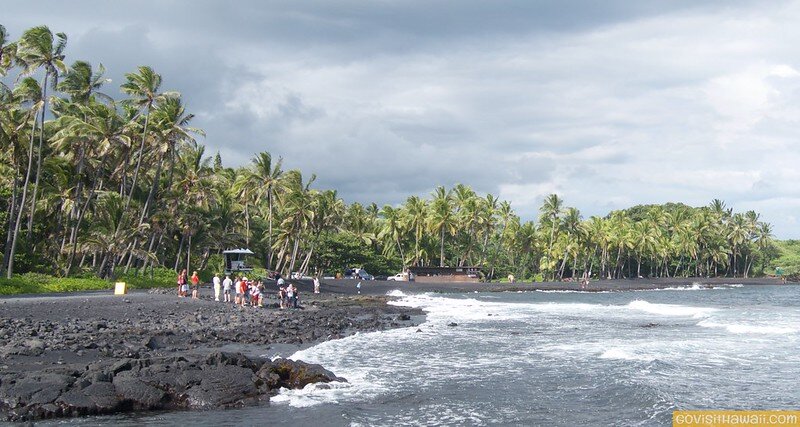 The Punalu'u Beach Park is not an ideal swimming spot per Go Hawaii, however it is fantastic for relaxing and taking in the scenery.
The vast size of Hawaii Island can be appreciated, in part, by the drive to get to Punalu'u. If you are staying in the Hilo area  the drive takes just over an hour, without stops. From Volcano near Hawaii Volcanoes National Park, the drive is only about 30 minutes. If you are coming from Kona and Kohala areas, expect a drive time of around 2 to 2.5 hours respectively, without stops. From either direction, you'll see lava fields as well as new and old forested areas in such an interesting mix of terrains. Along the way, you may want to stop to take in the scenery.
From this link to Google Maps, you can create your own directions to Punalu'u Black Sand Beach.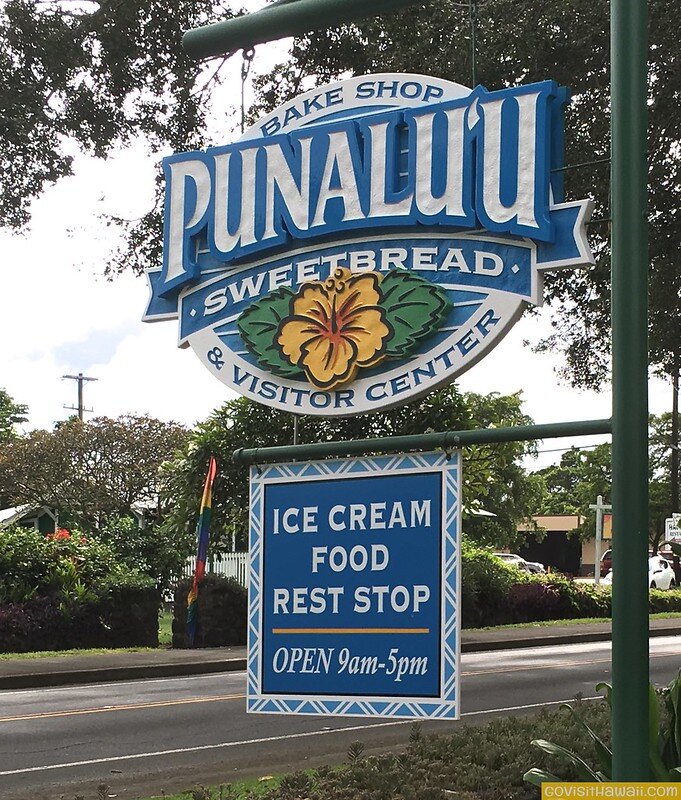 It's also worth noting that there's a lovely bakery, Punalu'u Bake Shop, that's in the nearby town of Na'alehu. This small town is about a 15-minute drive from the black sand beach. (Note that if you're driving from the Kona side, you'll reach Na'alehu ten miles before the black sand beach.) Punalu'u Bake Shop is famous for two things in particular. First, they are known for their sweet breads. Second, they're the southernmost bakery in the United States. In addition to their sweet breads, we've enjoyed their malasadas and coco puffs, as well.
The town of Na'alehu is quite interesting to see as well. This town was once a bustling sugar cane mill town. For history buffs, here's a link to the history of the sugar cane plantation of Na'alehu.
Have you ventured to this remote, yet interesting part of Hawaii (Big) Island? What did you think?