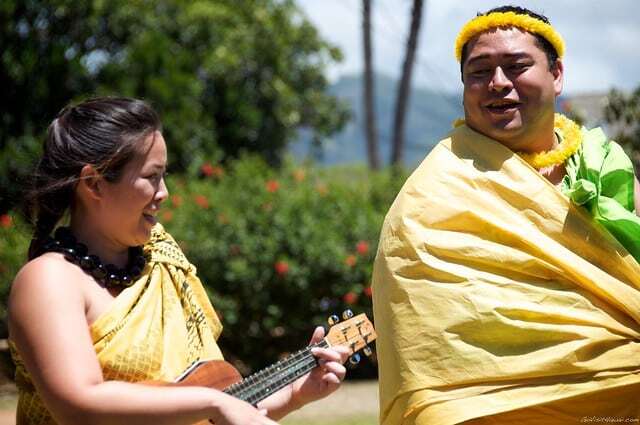 There's much to celebrate in Hawaii — food, music, dance, culture and history — and there are plenty of festivals to do so in the coming months. We're listing the top cultural events that you may want to make a part of your Hawaii vacation.
Most of these cultural events are very established and have been celebrated for decades. For examples, the King Kamehameha Celebration Floral Parade in June is 103 years old and Oahu's Lei Day Celebration in May is not far behind at 92 year.
To help you skim through this list, we've organized by month, date and island.
May 2019
1st – All islands – Lei Day – A celebration of the beauty and traditions of the Hawaiian lei. Check local newspapers and your concierge for special Lei Day events near you. One of the bigger events is the 92nd Annual Lei Day Celebration on Oahu's Kapi'olani Park near Waikiki. Note that if Lei Day falls on a weekday, some events may be held on the weekends before and after May 1st.
11th – Kauai – May day by the Bay – A community event featuring hula, music and cultural practitioners at Wai'oli Beach Park in Hanalei. See this link for more information.
17th – 19th — Hawaii (Big) Island — Hawaii Kuauli Pacific & Asia Cultural Festival — A celebration of Hawaii Island's beauty and cultures. See this link for more information.
18th – 27th – Hawaii (Big) Island – Honoka'a Western Week – A week-long celebration of the paniolo (Hawaiian cowboy) heritage including Hamakua Harvest Festival, a rodeo, food, music and dance.
26th – Kauai – Banana Poka Round-Up – This forest education fair is held in beautiful Kokee State Park. See this link for details.
27th  – Oahu – Memorial Day Events – A ceremony at Punchbowl and Latern Floating Festival are two of Hawaii's top Memorial Day events. Check our Oahu Memorial Day Events page which will be updated in May.
30th – 1st — Molokai —  Molokai Ka Hula Piko – A festival celebrating the birth of Hawaiian hula dancing.
June 2019
6th – 9th — Maui — 38th Annual Kapalua Wine & Food Festival — This food and wine festival is one of the top culinary festivals in Hawaii. See this link for more information.
7th – 9th — Oahu — Pan-Pacific Festival  — A international cultural celebration with a focus on Pacific Rim cultures. Food, hula, music and a parade are all included. See this link for more information.
8th – 11th — All islands — King Kamehameha Celebration — The first king to unite the Hawaiian Islands, King Kamehameha, is celebrated across the islands. If you like parades, this holiday offers a good chance to see one in Hawaii. The state holiday of King Kamehameha Day is officially established on June 11th, however celebrations typically take place on the weekend nearest to June 11th. Check local papers and/or with your concierge for celebrations. Some noteworthy events are:
21st – 22nd — Oahu — Mango Jam — A celebration of all things mango. Learn more about this festival here.
23rd — Maui — 28th Annual Ki Hoalu Guitar Festival celebrates the sounds of the slack key guitar. Learn more here.
28th – 30th — Hawaii (Big) Island — Hilo Orchid Society Annual Show and Sale – Hawaii Island is known as the "orchid isle" so it's fitting that Hawaii's biggest orchid show takes place on Hawaii Island. See this link for more information.
July 2019
4th – All islands —  Independence Day – Many fun events are held across the islands to celebrate the 4th of July. We post the top fireworks shows, parades and more in these July 4th island guides, which will be completely updated in mid to late June:
6th — Lanai — Pineapple Festival –Held annually in early July (usually the first Saturday) the Lanai Pineapple Festival celebrates the history and culture of their pineapple plantation past. See this link for more information.
19th to 28th – Kauai – 34th Annual Koloa Plantation Days – Celebrates historic Koloa plantation culture and history. The festival's signature event, the parade and park event, will be on July 27th this year.
20th – 21st — Oahu — 42nd Annual Prince Lot Hula Festival at Iolani Palace — Hula, crafts, games and more.
21st – Oahu – 49th annual Ukulele Festival — Celebration of Hawaii's most iconic musical instrument.
25th – 27th — Oahu — 44th Annual Queen Lili'uokalani Keiki Hula Competition – A festival and competition of hula performed by children.
August 2019
3rd – 4th — Kauai — Heiva I Kauai — An international Tahitian dance competition.
15th – 25th — Oahu — Duke's OceanFest -A celebration of one of Hawaii's most beloved watermen and legends, Duke Kahanamoku. A variety of water sport competitions and events take place over several days.
TBD (usually mid-August)  – Hawaii (Big) Island – 47th Annual Ho'oku'ikahi Establishment Day Hawaiian Cultural Festival – Typically held at Pu'ukohola Heiau National Park.
—
We've listed the major events of May, June, July and August, but there are more small and large festivals and events going on throughout the year. An easy way to discover what's happening is to use the search feature at  www.GoHawaii.com/trip-planning/events-festivals.
Notes:
As far as possible, we have linked to sites for more information on the individual events. Initially, some may not have many details until the time draws nearer to the event.
Most of these events are free!
Additional resources for festivals and special events:

Kona Web for Hawaii (Big) Island
Local newspapers
Around August, we plan to create a list of the major cultural festivals for September through December 2019.