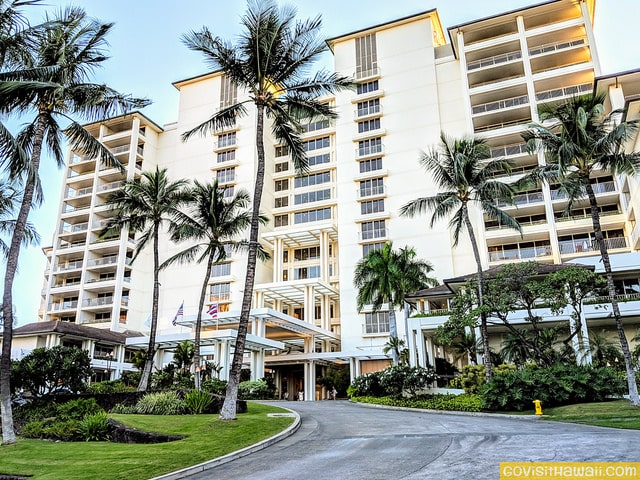 Four Seasons Resort Oahu at Ko Olina is a relaxing and luxurious place to stay on Oahu. This photo and video tour/review is designed to help you to get a feel for this resort as you are making your Oahu accommodation decisions.
A little history
Four Seasons Oahu at Ko Olina occupies the same grounds and building as the former JW Marriott Ihilani. In our opinion, since the resort has converted to a Four Seasons resort in 2016, it's been a very nice upgrade. There are more restaurant options, new pools and a fresh design.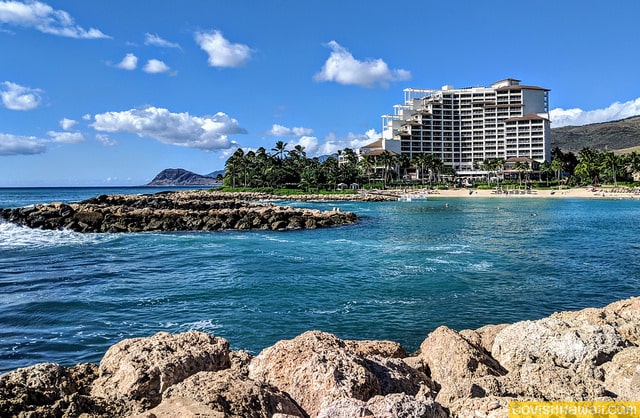 Location
Four Seasons Oahu is located in Ko Olina resort on the southwest, leeward coast of Oahu. This resort has grown in popularity since the 2011 addition of the Disney Aulani resort. We've noticed the addition of new restaurants and shopping in Ko Olina since Aulani came to town.
Aulani and Four Seasons are hotel neighbors sharing the same lagoon. Ko Olina's lagoons are popular because they are sheltered for swimming and playing in the ocean.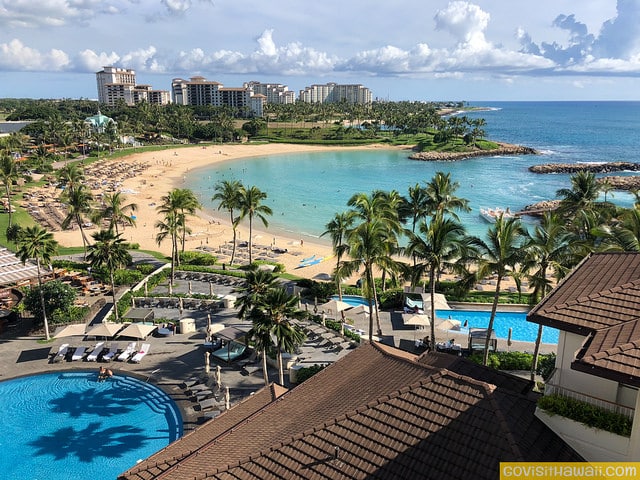 Weather-wise, Ko Olina is generally a sunny place to stay. The leeward position protects it from too much rain.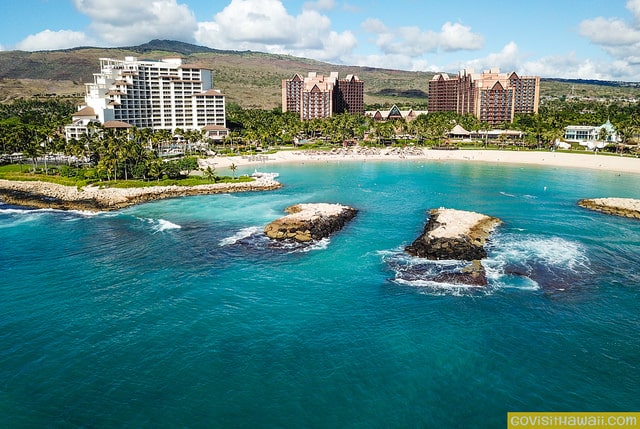 Ko Olina sunsets are stunners! It's one of our favorite things about this resort.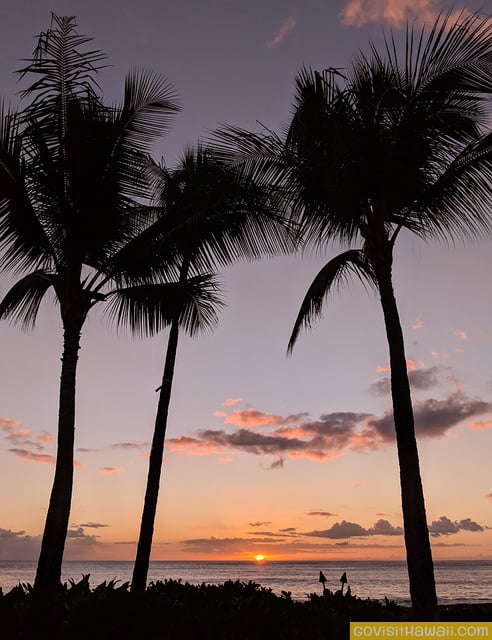 See this link for more of our thoughts about Ko Olina resort.
Rooms
Spacious, well-appointed rooms become a home away from home. How roomy are the rooms? The standard room starts at 640 square feet (59 square meters) which is well above the average-sized Hawaii hotel room. The lanai of each room is also larger than average which gives a sense of private space.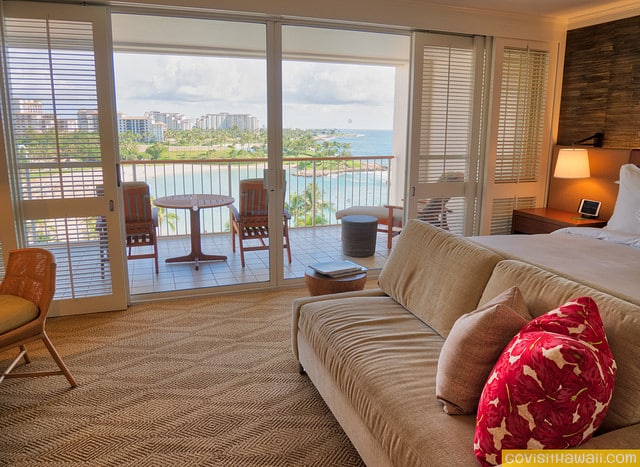 We like the entryway/foyer which offers privacy plus a functional area for a small refrigerator and coffee maker.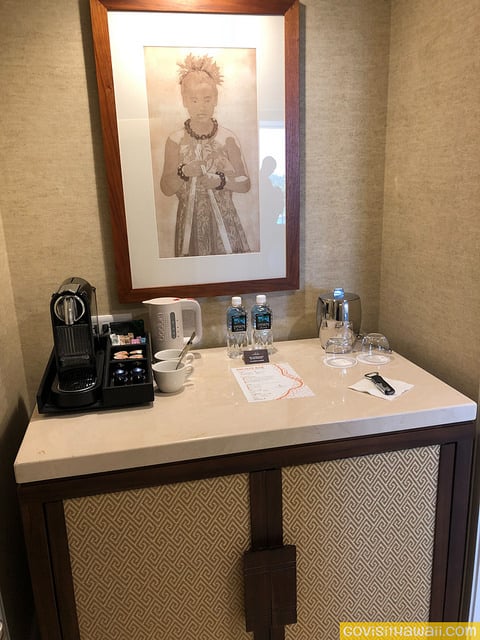 Here's another view of the bedroom area.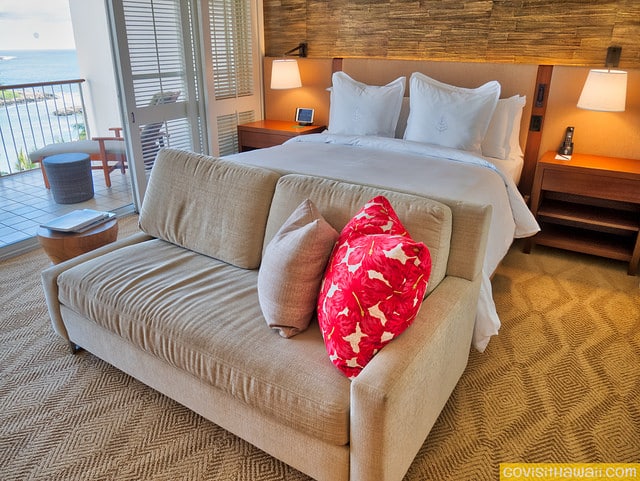 The following photo shows the drawer space, desk and television area that's across from the bed.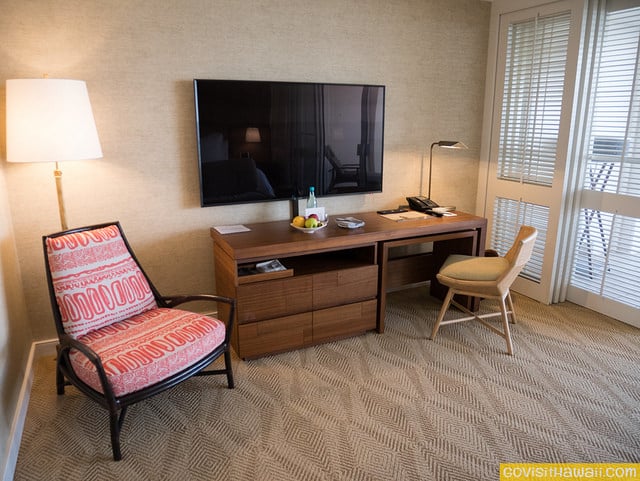 As you can see, the room colors are mostly earthy, sandy tones with just a small pop of color for interest.
Rooms are equipped with iPads that offer many functions such as an alarm clock, weather guide, restaurant reservations, room service and much more.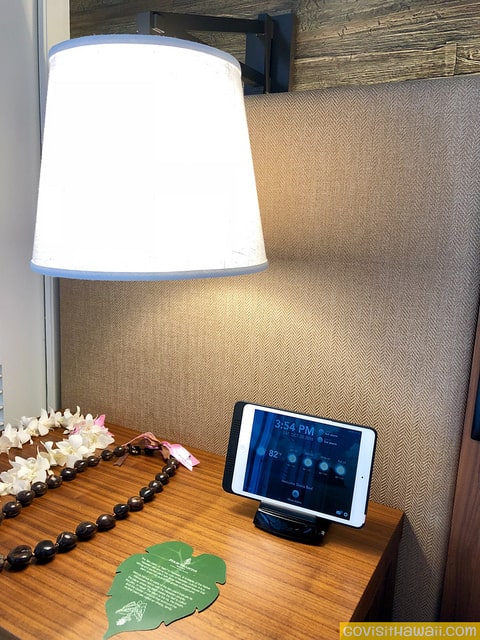 The bathrooms have two separate sinks, a walk-in shower, a large tub and a water closet with a door.
Here's a photo showing one side of the bathroom with the tub.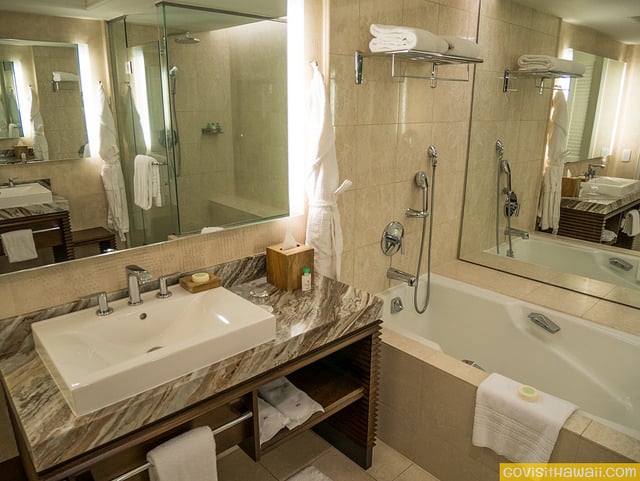 Here's a photo of the opposite end with the shower shown.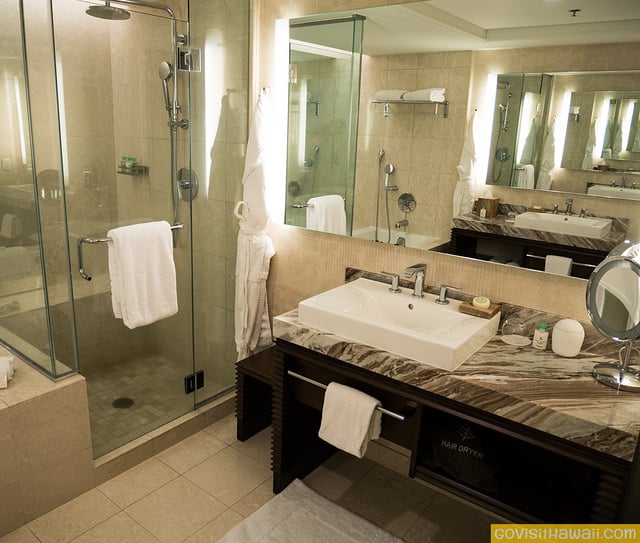 Luxury toiletries…yes, please!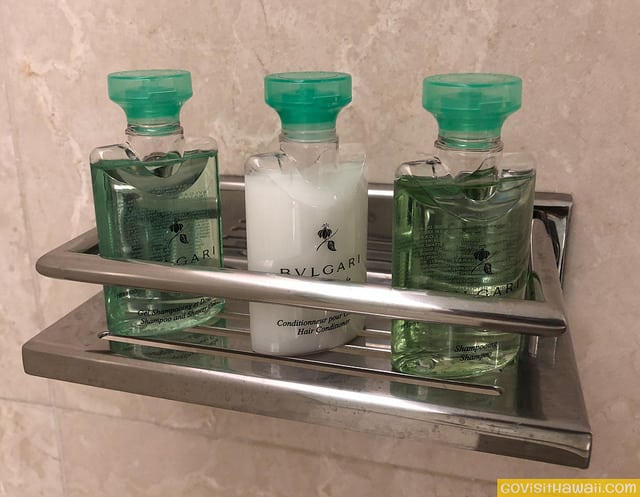 Hotel amenities
The hotel offers several dining options — from grab and go to fine, resort dining. One of our favorite dining experiences was happy hour pupus (appetizers) at Mina's Fish House.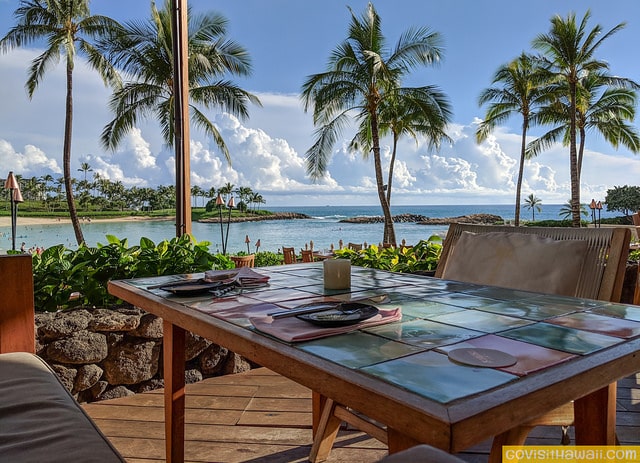 The new pool options at Four Seasons Oahu are great additions. We particularly liked the adult-only infinity pool. The staff there were excellent. I think I could have been quite happy to have just spent every day of our Oahu stay lounging by the infinity pool.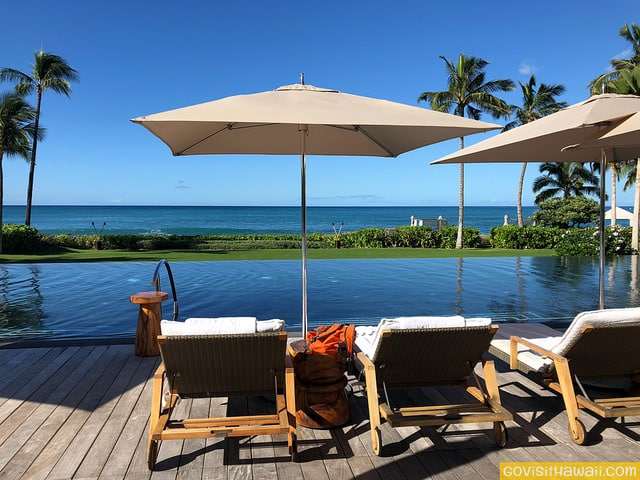 The resort has an onsite spa and tennis facility, which we wish we had more time to explore.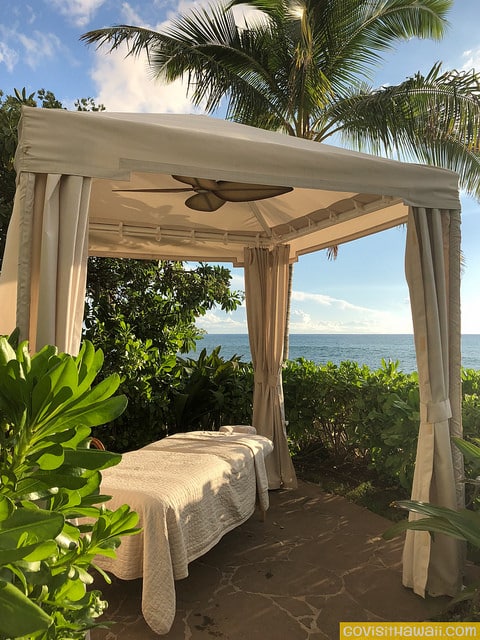 This resort seems to be a popular place for weddings. As we were waiting for over an hour for our room to be available for our mid-afternoon arrival, we saw a parade of excited brides and grooms make their way towards the onsite wedding chapel.
For information about these amenities and more, see this link.
Video tour of Four Seasons Oahu at Ko Olina
Take our short (one minute and nine seconds) video tour of Four Seasons Oahu at Ko Olina.

Final tidbits and thoughts
Four Seasons Oahu at Ko Olina is definitely on the pricier end of Oahu hotel rates. At the time of writing, a quick rate search indicated a lowest rate of $655 per night. Is it worth that price? That's a good question and one we're not sure how to answer. While the resort is certainly luxurious, it seemed to miss the mark for personal service that we've experienced at other luxury resorts in Hawaii. That being said, we did have a pleasant stay and if you are looking for a high-end resort in a remote part of Oahu, it's worth considering the Four Seasons.
If you have a rental car, your only parking option is valet at $45 per night.
See our collection of photos from our stay.
For more reviews of Four Seasons Resort Oahu at Ko Olina, see this TripAdvisor link.
For more details about this resort, see their website.