Hawaii festivals and special events January – April 2017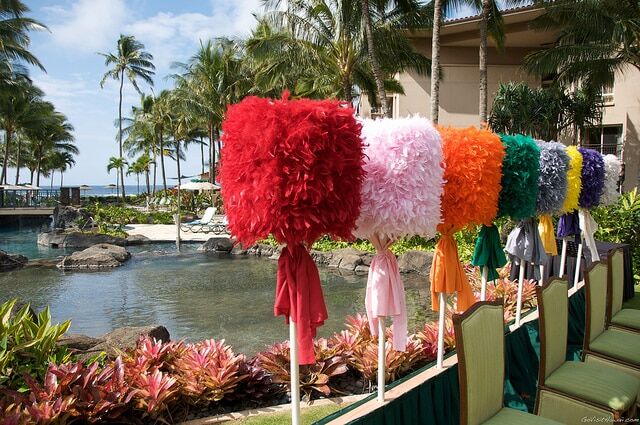 If a Hawaii vacation is in your near future or you just need a good excuse to plan one, there's a chance that you may find a fun festival or event to include in your itinerary.
Here are the major cultural and special events planned through April 2017. Click on the links to learn more about each festival.
February
4th – Hawaii (Big) Island – Waimea Cherry Blossom Heritage Festival – a celebration of the cherry trees in bloom and the Japanese tradition of viewing them. Use this link and scroll to the festival listing to learn more.
18th – Maui – World Whale Day – a celebration of humpback whales.
18th – 25th – Kauai – Waimea Town Celebration – one the largest and longest-running Kauai community cultural and recreational events.
March
10th – 12th – Oahu – Honolulu Festival – this festival includes a great celebration of the Hawaiian and Pacific Rim cultures, a grand parade and a major fireworks show.
11th – Hawaii (Big) Island – Kona Brewers Festival – features craft beers, gourmet island food, live music and entertainement.
April
8th – Hawaii (Big) Island – Laupahoehoe Music Festival
14th – 16th – Maui – Celebration of the Arts Festival – Hawaiian arts
16th – 22nd – Hawaii (Big) Island – Merrie Monarch Festival – this is the top festival showcasing hula and the Hawaiian culture.
22nd – Maui –Ha'iku Ho'olaule'a and Flower Festival – entertainment plus floral design and lei making contests
29th – Maui – East Maui Taro Festival – a celebration of taro and it's importance to Hawaiian culture.
29th – Oahu – SPAM Jam – a celebration of all things SPAM, which is one of Hawaii's favorite foods.
TBD – Kauai – Prince Kuhio Celebration – a celebration of Prince Kuhio. This site currently shows the 2016 information of the festival and will most likely be updated for 2017. Prince Kuhio Day is an official Hawaii state holiday and celebrated on March 26th.
—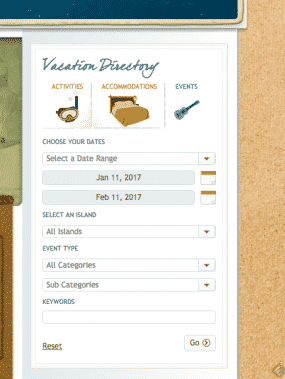 The above list is of the top cultural festivals as identified by our contacts at the island visitor bureaus, but there are many more festivals and events going on throughout the year.
An easy way to discover festival happenings is as follows:
Go to www.gohawaii.com
After the page opens, move to the 'Vacation Directory' on the right sidebar. Note that the photo on the right shows a screen shot of the "Vacation Directory'
Click on the EVENTS tab.
Select the date range of your visit and/or interest.
Select the island you'll be visiting.
Click on the Go button. Then, the results will display.
Around April, we will create a list of the major cultural festivals for the 2017 months of May through August. In the meantime, if you are searching for more information on events for that time period or beyond, use the above instructions to search for them.