Aloha Friday Photo: A magical encounter with Santa on Haleakala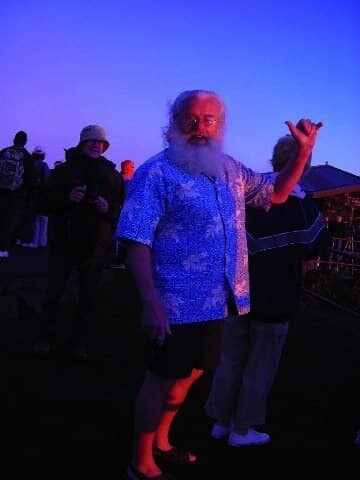 We love this incredible Santa story shared by Annie Chavez-Hollingshead. Even though we've shared this story years ago, we're still amazed and feel that it's definitely worth revisiting considering that Christmas is quickly approaching.
Annie visited the summit of Haleakala for sunrise in 2007. She said everyone was wrapped up as warmly as they could be on this frigid December morning. It was so chilly, snow flurries were dancing in the air.
Out of nowhere, Annie noticed a gentleman dressed in a short-sleeved shirt, shorts and sandals. Surprisingly, he didn't appear to be the least bit cold. Upon further inspection, she noticed that this gentleman looked a lot like Santa with shoulder-length, white hair,  a mustache and a beard. She got this man's attention by calling out, "Santa!" Without hesitation, this gentleman turned towards Annie and posed for the above photo. After the photo, this gentleman seemed to disappear without a trace.  Amazing, right?!
Happy Aloha Friday and Mele Kalikimaka!