Oahu is a great place to honor Memorial Day
For Memorial Day 2019, see this link —> Oahu, Honolulu, Waikiki Memorial Day
---
Oahu is a perfect place to honor Memorial Day. In addition to extraordinary memorial sites like Pearl Harbor and Punchbowl, there are some special Memorial Day events.
We've gathered a great list of events and activities. Here's what's happening this Memorial Day Weekend:
Oahu Events on Memorial Day, May 30, 2016
Honolulu Mayor's 67th Annual Memorial Day Ceremony at Punchbowl
This annual ceremony is held at the National Memorial Cemetery of the Pacific, which is also more commonly called Punchbowl. This event features local military dignitaries, local JROTC, military performances and a performance (beginning at 8am) by the Royal Hawaiian Band. It  is free and open to the public. The ceremony will take place from 8:30am for approximately one hour at Punchbowl's National Memorial Cemetery of the Pacific at 2177 Puowaina Drive in Honolulu. Parking will be extremely limited. Consider taking The Bus which will be offering special services to Punchbowl for the ceremony.
Waikiki Memorial Day Parade
This parade is expected to have 2,000 marchers, 30 vehicles, five floats and eight bands. The route starts at Fort DeRussy to Kalakaua Avenue to Kapahulu and Monsarrate avenues. The parade starts at 9am.
Lantern Floating Ceremony at Ala Moana Beach Park
The annual Memorial Day Lantern Floating Ceremony offers participants to gather together to remember loved ones who have passed away. More than 6,000 floating lanterns are expected along with over 40,000 people attending this free event. This year's pre-ceremony starts with taiko performance at 6:10pm. The main ceremony starts at 6:30 pm at Magic Island at Ala Moana Beach Park. Free parking will be available on May 30th from 7:00am to 11:59pm at the Hawaii Convention Center. If you are staying in Waikiki, you might consider walking, especially if your hotel is on the western end of Waikiki or consider the Waikiki Trolley.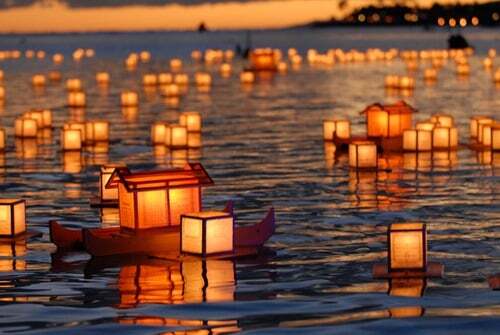 Other things to see and do over Memorial Weekend 2016
Punchbowl National Memorial Cemetery of the Pacific
Though we have already mentioned the Memorial Day morning ceremony at Punchbowl, you don't have to wait for that event to visit this moving site. If you visit on the afternoon of Sunday, May 29, you may be able to see the grave sites draped with lei made by locals as well as an American Flag. The local boy scouts and girl scouts decorate the graves for Memorial Day. See this KHON story on the preparations for this annual project. See our post with advice for visiting Punchbowl.
USS Arizona Memorial in Pearl Harbor
We list a visit to the USS Arizona Memorial as one of the top things you should see and do on Oahu. It's a very moving place to tour and can be an especially meaningful place to visit on Memorial Day. Admission is free. I highly recommend that you get there early in the morning as holidays are particularly popular times to visit. The Visitor Center is open from 7am to 5pm, but the timed programs to the memorial begin at 8am and run through 3pm. Be prepared for your visit by reading Visiting the USS Arizona Memorial at Pearl Harbor.
USS Missouri in Pearl Harbor  
The Mighty Mo played an important role in US history and is well worth touring. See this link for more information, directions and ticket pricing details.
The Battleship Missouri Memorial will honor Armed Forces members who paid the ultimate sacrifice to protect America's freedom by providing free admission to all active-duty, reserve, auxiliary, and retired U.S. military personnel and dependents on Memorial Day. On Monday, May 30, present a valid military I.D. for free admission at the Ticket and Information Booth at the Pearl Harbor Visitor Center or at the entrance to the Battleship Missouri Memorial for those having approved base access onto Ford Island.

USS Missouri Memorial (left) and USS Arizona Memorial (right) in Pearl Harbor
Pacific Aviation Museum in Pearl Harbor
This museum displays aircraft that have been important to US military history. See this link for ticketing information.
USS Bowfin Submarine Museum & Park in Pearl Harbor
The Bowfin was an attack submarine vessel with significant history in WWII.

—
We hope you have a safe and meaningful Memorial Day.