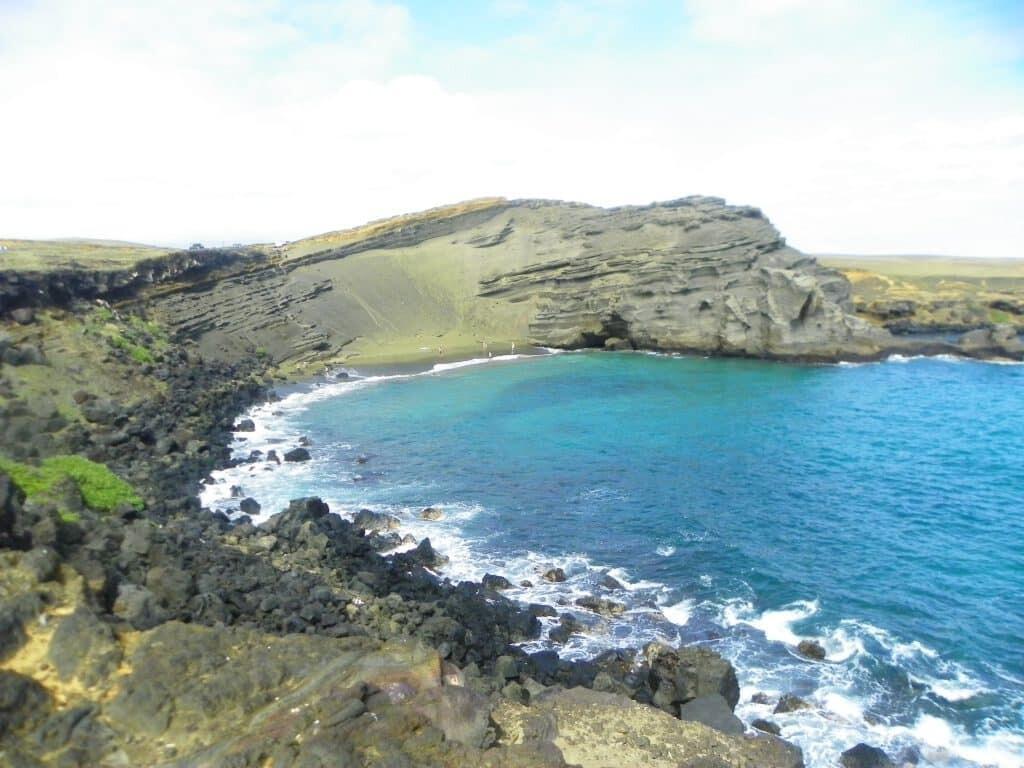 Mahalo to Kelly Driscoll-Smith for sharing this unique Hawaii Island photo with us. Kelly took this photo at Papakolea Beach — also known as the Green Sand Beach.
How does this green sand beach get it's color? I'll let Wikipedia explain:
The cinder cone is rich in olivine, a silicate mineral containing iron and magnesium, also known as peridot when of gem quality. Olivine is a common mineral component of Hawaiian lavas and one of the first crystals to form as magma cools. Olivine is locally known as "Hawaiian Diamond" and is notably found in Oʻahu's famous Diamond Head landmark. The source of the green coloration of the beach sands is due to the olivine crystals which are winnowed from the eroding headland by the action of the sea. Olivine, being denser and tougher than the ash fragments, glass and black pyroxene of the rest of the rocks and lava flows, tends to accumulate on the beach whereas the usual volcanic sand is swept out to sea. Although these crystals are eventually washed away as well, the constant erosion of the cinder cone ensures a steady supply of sand for the foreseeable future—eventually, however, the supply will run out and the beach will look like any other.
This green sand beach is located on the southern side of the Big Island.  As Kelly shares, getting to this beach takes some effort.
It was approximately a 40 minute hike, most of us came prepared (sneakers) however daughter #2 did this in flip flops 🙁 (not recommended)…but she made it in and back.
Prior to the dry (bring lots of water) and dusty hike to the beach, there's a significant driving commitment. To get there if you are staying in Kailua-Kona will take approximately 1 hour 45 mins drive time and over two hours from the Kohala Coast. See this google map for more details and driving directions.
After all that effort, did Kelly and her family enjoy their trek to this unique beach?
We swam with a sea turtle that was hovering in the water nearby…This is just such a beautiful spot and the nice part is it's not very populated.
I think the answer to our question is yes.
Happy Aloha Friday!