Maui July 4th Fireworks & Events 2014
*** UPDATE: click this link for 2016 Maui July 4th Fireworks & Events ***
—-
The following information is from July 4th 2014 for reference purposes only. For the 2015 page go here —> Maui July 4th 2016
If Maui is your destination for July 4th, you'll find fireworks and fun events to celebrate this Independence Day. Here's what's on slate for July 4, 2014:
Lahaina July 4th Fireworks Show & Entertainment
After sunset, the night sky will light up with a big fireworks show visible from along the sea wall on Front Street in Lahaina. The fireworks show will start at 8pm.
You can view the fireworks show from the sea wall in Lahaina. The display normally shoots from a barge situated across from Front Street. Near Hard Rock Cafe at 900 Front Street, you'll be able to hear synchronized music to accompany the fireworks display.
The following flyer from the Lahainatown Action Committee lists the schedule of events starting at 2pm.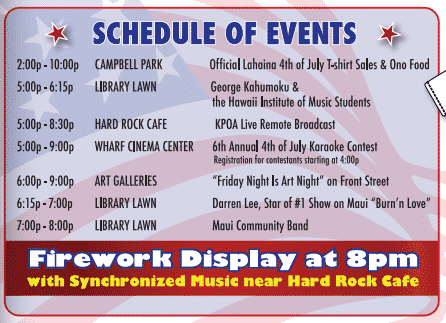 July 4th Fireworks Dinner Cruises
For alternative views of the Lahaina July 4th fireworks, consider these cruise options that have availability at the time of publishing:
– Leilani 4th of July dinner cruise departs from Maalaea Harbor where parking is much easier to find versus Lahaina town. The dinner menu includes traditional Independence Day fare such as burgers, hot dogs,apple pie and more. For more information, see this link.
– Pacific Whale Foundation offers a catamaran dinner cruise to see the fireworks. This no alcohol dinner cruise departs from Maalaea Harbor, where parking is much easier than in Lahaina. For more about this cruise, see this link.
– Alii Nui Maui is offering a luxury dinner cruise for firework viewing. This cruise even provides complimentary transportation from most south and west side Maui resorts pending availability. For more information, see this link.
Other Events over July 4th Weekend in Maui
– Lanai celebrates their their annual Pineapple Festival on July 4th and 5th. On the 5th the festival will put on a fireworks show. Lanai Expeditions ferry will be offering a special 10pm service from Lanai to Maui on July 5th to allow fireworks viewing at the festival. Contact Lanai Expeditions for ticketing and more information. (Added June 30)
– The upcountry Maui town of Makawao hosts their 59th annual rodeo from July 3 -6. See this link for more information. Their "4th of July" parade will be held on Saturday, July 5th starting at 9 am. (Added June 30)
—
Notes:
– All the details for these 2014 July 4th events in Maui are accurately reported at the time of publishing.
– Events are subject to change without notice.
– Updates and further details will be provided as and when they are identified. You may want to bookmark this page to check back for additions and changes.
Happy Independence Day!
If you are a journalist or blogger using this post for researching an article you are writing, kindly do what's pono (proper) and provide a link back to Go Visit Hawaii. This work is a result of many hours of my very own research, long distance phone calls, emails, contacts, etc.