Suggestions for taking two separate vacations on the same Hawaiian Island
The climate diversity in Hawaii is really amazing. Generally speaking, one side of each island is lush and jungle-like, while the opposite side is dry and almost always sunny. This pattern is described as the windward and leeward sides of the Hawaiian islands. When you visit Hawaii, we highly recommend you get out to explore both these sides. The contrast and diversity in such a small area is amazing.
In this article, we present some food for thought as you're making Hawaii vacation plans. Beyond just sightseeing from the windward side to the leeward side, you could use these contrasts to create two separate vacations on the same island. You'll enjoy two different vacations without having to fly somewhere else.
Here are some examples of how you might consider splitting your vacation time to enjoy two different experiences on the same island.
Maui
For two separate vacations on Maui, we recommend that you split your time between either west or south Maui and Hana. South Maui is a bit drier and sunnier than west Maui, but the two areas are fairly close in climates. Hana, however, is vastly different with its small town appeal in a tropical garden setting. While you'll have plenty of hotel and condo selections in west and south Maui, there is only one hotel in Hana plus a handful of bed and breakfast and vacation rental accommodations. For a few more tips, check out our Maui where-to-stay guide.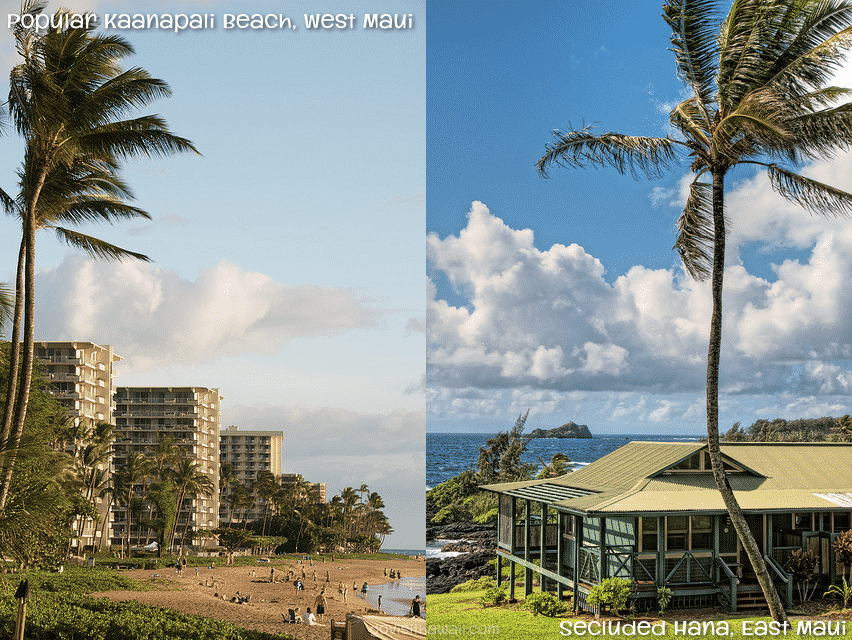 Kauai
To experience that windward side, we recommend a stay on the north shore in the Princeville or Hanalei areas. On Kauai's north shore, your vacation is set with gorgeous beaches anchored with the dramatic backdrop of green mountains sometimes laced with cascading waterfalls. In our opinion, it is one of the most stunningly beautiful places in all of Hawaii. For contrast, split your Kauai vacation with a stay on the sunny south shore in the Poipu or Waimea areas. You'll be able to find luxury and budget accommodations on both sides of Kauai.

Hawaii, the Big Island
Experience two distinct areas of Hawaii Island, is as simple as splitting your stay between the Hilo side and the Kona side. If you are interested in exploring the amazing Hawaii Volcanoes National Park, which we highly recommend, you should plan a stay on the Hilo side. We're quite partial to the small village of Volcano with its many bed and breakfast accommodations surrounded by rainforest. Also, near and actually in the park, you'll find a couple hotels.
For the leeward experience, head over to the more beachy side of Hawaii Island, which we also refer to as the Kona side. There, you'll find many accommodation options from the Kohala Coast to Kona and down to Keauhou. For more advice, check out our article on how to choose where to stay on the Big Island.
Lanai
Though small, with only three hotels and a handful of alternative accommodations on the entire island, Lanai does offer two very different vacation experiences. A stay in and near Lanai City provides a very relaxing stay in the lovely cool breezes of Lanai's highlands. In contrast, you can enjoy a warmer stay beside a pristine beach in Manele Bay.

Oahu
Like the other islands, Oahu has its windward and leeward sides. In addition, this island also offers a big city resort as well as the quiet resorts, which, for Oahu, is the bigger contrast in environments and experiences.
The vast majority of visitors to Hawaii stay in Waikiki. It's far and away Hawaii's most urban setting. For two separate experiences, consider pairing a Waikiki stay with one of the other resort areas. In my opinion, the biggest contrast is between Waikiki and Turtle Bay on the North Shore.
Outside of Waikiki, there are only a handful of other major resort areas:
Turtle Bay Resort on the North Shore is away from all the hustle and bustle of Honolulu. It's a quiet and relaxed resort that's near the windward lushness of Oahu.
Ko Olina Resort on the southwest leeward coast. This area is not quite as bustling as Waikiki, but it is certainly more vibrant and popular with the recent addition of Disney's Aulani resort.
Kahala is only about 10 or 15 minutes drive northeast of Waikiki. Here, you can experience the best of both worlds by staying in a more relaxed resort that's a short distance from Waikiki's restaurants and shopping. This resort offers complimentary shuttle service to Waikiki.
I should also mention that the Diamond Head side of Waikiki offers a view of lively Waikiki, but with a bit more peace.

Final thoughts
If you split time between two different areas, you will have to invest the time to pack and check out of one accommodation to check in and settle in to the next accommodation. You may be able to more than recoup this time in driving time if you plan your sightseeing according to where you stay.
If you are splitting your time between budget and luxury hotels, it's always easier to start with the budget and finish with the luxury–versus downgrading from luxury to budget. From our experience, it also seems nicer to start at the wetter destination, then transfer to the sunnier spot.
Have you ever created two separate Hawaii vacations on the same island? How did it work for you? Did you enjoy it? Please chime in.