Long-haul flight tips to/from Hawaii: What to bring on the plane to make the flight pleasant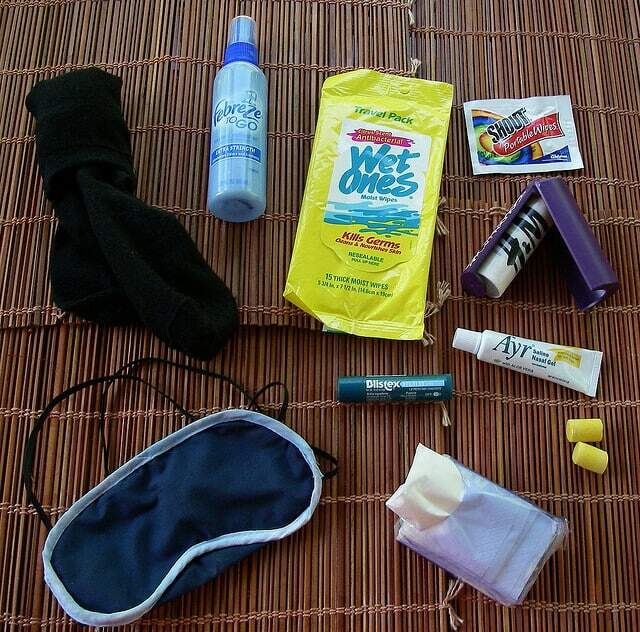 Boarding pass? Check. Government-issued photo identification? Check. Wallet? Check. Carry-on luggage? Check. What else do you need to bring onboard for your flights to and from Hawaii?
We conclude our series on tips for making your flights to and from Hawaii as comfortable as possible with suggestions for what to bring with you on the flight. Use this list to customize what you bring to suit your personal wants and needs.
Water — Staying hydrated on very dehydrating planes is a must for long-haul flights! Though flight attendants serve complimentary beverages during your flight, it's good to supplement what they provide with additional water. Since you're not allowed to bring filled liquid containers greater than 3.4 oz through TSA airport security in the US, we suggest that you either bring along an empty container and fill it at a water fountain or purchase a bottle of water after you've cleared security. The foldable water bottle I mentioned here works well on flights.
Snacks — Some domestic flights to Hawaii do not supply complimentary meals or snacks in the economy/coach cabin. Check to see if a meal or snack is included with your flight. Some airlines do provide snacks for purchase, you are at the mercy of their limited and overpriced selections. Obviously, bring what you like to eat, but try to avoid extremely smelly foods that may be off-putting to your fellow passengers. If you bring fresh fruit or vegetables, you should consume before landing in Hawaii per their agricultural restrictions. Likewise, unless otherwise marked, you are not allowed to bring fresh fruit or vegetables purchased before the agricultural inspection on the return flight  to the mainland.
Wet wipes — As soon as I'm seated on the plane, I like to us a antibacterial wipe to clean the surfaces at my seat, like arm rests and tray tables, that I will be touching. They're also helpful for cleaning your hands at your seat when it's not convenient to go to the lavatory. While we're in Hawaii, we also use these wipes on our adventures around the islands.
Tissues — Dry air on a plane has the tendency to dry your nasal passages which makes some people sneezy.
Nasal moisturizer – I use a saline nasal gel or spray mist like Ayr, which helps to keep my nasal passages from becoming dry and irritated.
Lip balm-– Keep the dry air from shriveling up your lips with a moisturizing lip balm. Make it a lip balm with SPF to wear during your sunny Hawaii vacation.
Entertainment — Bring books, magazines, music on an mp3 player, iPod or mobile phone, games you can play on your phone or tablet without being connected to the internet. Some airlines and aircraft have personal entertainment systems with movies and/or games, however, in our experience that isn't the norm. Most airlines provide some in-flight entertainment — usually a movie or two shown on the entire plane. In case you don't like the movie, it's best to be prepared by bringing your own entertainment.
Ear phones/buds — If your flight includes an in-flight movie, there's no charge to watch it and listen to the audio with your own ear phones/buds. Most airlines charge $2 for a cheap set of earbuds. Plus, you'll need earbuds if you listen to your own music.
Socks — As we mentioned in our article on what to wear on long-haul flights, slipping off your shoes and wearing socks makes your feet feel more comfortable during a long flight. We recommend compression socks to reduce swelling and the risk of deep vein thrombosis (DVT) or the build up of blood clots in the legs. You can find compression socks in drug stores and online.
Sweater/jacket or small blanket — During the course of a long-haul flight, the planes can feel chilly — especially near the exit rows.
Stain remover — In case you get a stain on your clothing, which is not uncommon during a long day of travel, it's good to have something to remove and/or fade the stain. We like individually-wrapped Shout wipes and Dryel pens.
Compact lint remover — A small lint remover roller is always handy to have during travel.
Gum, mints or toothbrush — When you're sitting in such close quarters with your fellow passengers, you'll want to try to keep your breath fresh. You'll especially want to freshen your mouth on redeye flights. Wisps are very convenient for this purpose.
Pen — You'll need to fill out the agricultural declaration form before landing in Hawaii.
Neck pillow — If you plan or hope to sleep on your long-haul flight a neck pillow makes you more comfortable. We use inflatable neck pillows that we purchased at Target for about $5 each.
Eye mask — An eye mask blocks out surrounding light to help you fall and stay asleep.
Earplugs — Filter out noise with earplugs. Also, music on your phone/player/etc. works well.
Your carry-on luggage — This suggestion almost goes without saying. We almost always travel with carry-on luggage only. (Read the benefits of packing light.) However, if you check luggage, it's a good idea to bring a small case or backpack onboard in the event that your luggage goes missing. Medicines, basic grooming items, a change of clothes, a swimsuit and flip flops are essential items to pack in your carry-on to Hawaii.
Related articles: 
– See our article on what to wear on the plane for a long flight as part of this series.
– Read our article on how to choose the best flights when traveling to Hawaii as part of this series.
– If you are traveling with small children, see the tips mentioned in this Q&A with a Hawaii flight attendant.
– What you should pack for a Hawaii vacation.
What else do you bring on your long-haul flights to make them more pleasant?