Long-haul flight tips to/from Hawaii: What to wear on the plane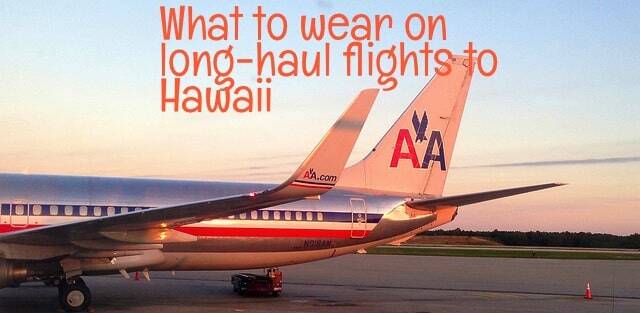 What you choose to wear on long-haul flights can make a big difference to your comfort. That task can be a little bit trickier when your long haul-flight involves changing climates to and from Hawaii.
One of the biggest challenges that you'll need to address is being warm enough on a cool plane, but cool enough when you step off the plane into a tropical paradise. Most of our flights have been at a relatively comfortable temperature, but we've also had some flights where we felt like we were human icicles half-way through the flight. It's best to be prepared for  temperature extremes for long-haul flights. Being too cold or too hot makes you incredibly uncomfortable and unable to relax.
Here's what we recommend you bring and/or wear for your Hawaii flights to keep you comfortable:
Bring or wear layers of clothing that you can add or take off depending on your needs.
A jacket or sweater is a must and not a waste of travel space. You'll most likely need/want a jacket or sweater in Hawaii's higher elevations. Some examples of those cooler elevations are Haleakala on Maui, Waimea Canyon and Kokee State Parks on Kauai, Lanai City in Lanai, Waimea on Hawaii's Big Island and the Pali Lookout on Oahu.
Wear loose-fitting clothing that cover your arms and legs, but can be rolled up. Clothing that includes natural fibers like cotton, feel most comfortable. I normally wear long trousers that can be rolled up and snapped into capri length. Andy sometimes wears hiking trousers with zip-off legs. (These trousers also come in handy for activities requiring long pants like riding ATVs, horseback riding and hiking over hardened lava.) While we're in the air, we have the legs at full length. When we get close to landing, we'll shorten them. I have also worn an attractive track suit that's predominately made of cotton, which can be both comfortable and multi-tasking, too. In generally, we recommend you wear clothes that are comfortable, without looking slouchy like you're going to the gym or about to do yard work.
Bring or wear comfortable socks. You lose a lot of heat through your feet. Keep your toes snuggly warm with a good pair of socks. To reduce lower leg swelling and discomfort, we recommend compression socks on long-haul flights. Since most compression socks are made of nylon and are thin, they aren't very warm.  If you tend to get cold easily, you might want to bring a second pair of socks (perhaps hiking socks) just in case your feet get cold.
Wear shoes that are easy to slip on and off. Slipping your shoes off help your feet feel more comfortable, especially if they tend to swell. We normally wear slip on hiking sandals or hiking shoes on the flight. In addition to being more comfortable on your feet, slip on shoes make it easier for you to go through airport security.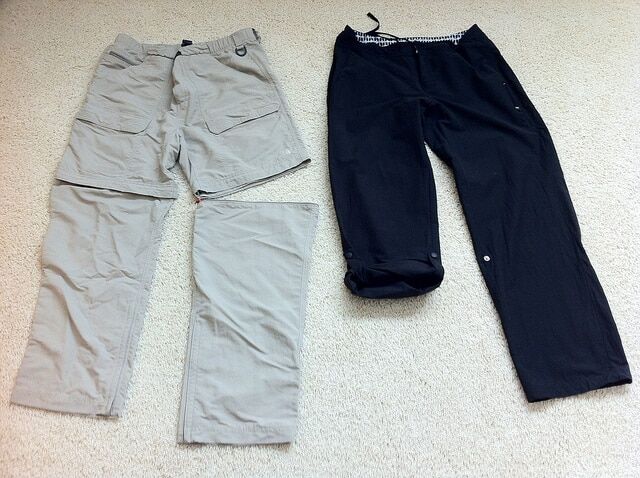 As we near landing in Hawaii, we take off socks and sweaters or jackets. We roll up trousers into the capri length or zip off legs. If we're wearing long sleeves, we roll them up. Then we're ready for Hawaii's tropical climate. Of course, we wear either the same clothing (preferable after being washed) or something similar for the return back to the mainland.
—
This article is the second in our series of long-haul flight tips to and from Hawaii. Up next, we'll address what to bring onboard to make your flight more comfortable and how to choose the best flights and seats. Get your free email subscription so you don't miss a beat.