What you need to know before booking a Hawaii cruise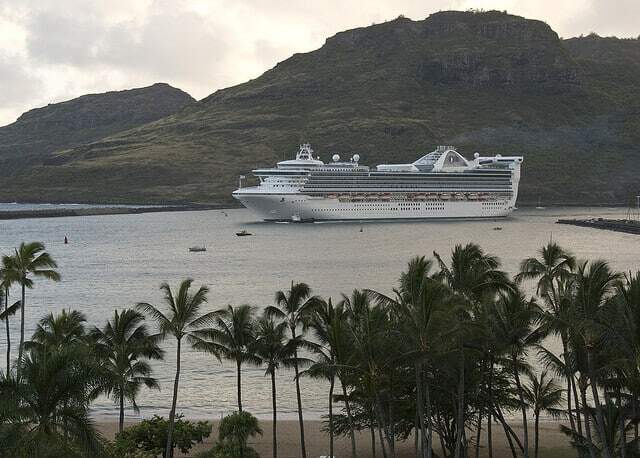 Considering a cruise to Hawaii? You'll appreciate today's guest post written by a cruise expert, Erica Kritt. This post discusses the difference between U.S. and foreign flagged ships along with the advantages of each option. 
If you are planning a visit to Hawaii, a cruise affords you a great way of seeing the 50th state. You can sail from island to island without having to get on a plane and go through a long wait in security for a short flight. However, cruising to Hawaii comes with two very distinct options, as a result of some old maritime laws. Before you embark, take some time to decide which option would be the best fit for you.
The Law
The Jones Act, also known as the Merchant Marine Act of 1920, in conjunction with the Passenger Vessel Services Act prohibits ships sailing under a foreign flag from carrying passengers between U.S. ports. This requires most ships to stop in a foreign port before returning to the U.S.
In Hawaii this means most foreign flagged cruise ships must stop at a distant port extending the cruise for many more days. For instance, most Hawaii cruises leave from the West Coast and stop either in Ensenada, Mexico or Vancouver, Canada. However, there is one cruise line, Norwegian Cruise Line, that has a ship sailing under the American flag that can therefore offer 7-day roundtrip cruises from Honolulu.
Experience on most Hawaii cruises operating under foreign flagged ships
Most cruise lines like Royal Caribbean, Princess Cruises and Celebrity Cruises offer regular sailings to Hawaii. These cruises last between 10 and 15 days. The shorter sailings usually occur when the ship starts from a port on the mainland like Los Angeles, Seattle, San Francisco or Vancouver and ends in Hawaii. Those cruises usually spend at least four luxurious days at sea, where you get to experience all these ships have to offer, from the delicious food to the exciting performances and maybe even a spa service in between. It also gives you time to prepare for a fun-filled few days in Hawaii that will no doubt be packed with adventure and non-stop activity.
The longer itineraries often include travel back to the mainland, which is great because it serves as a vacation from your vacation. You have another four days at sea to rejuvenate from your time in Hawaii. These sailings also have the added bonus of a smooth transition between time zones, meaning you will have no jet lag when you get to Hawaii and no jet lag on your return.
There are even longer itineraries offered from cruise lines like Holland America and Crystal Cruises where you might experience another location as well, like the South Pacific, or Japan.
Experience on the Pride of America operating under U.S. flagged ships
The Pride of America is currently the only U.S. flagged cruise ship sailing to Hawaii, meaning it's the only ship offering sailings in and around Hawaii, without having to visit a foreign port. Most passengers typically have to fly into Honolulu where the ship departs and the next seven days on the ship are spent visiting Maui (with an overnight stay), Hilo, Kona and Kauai (with an overnight stay.)  These sailings are offered year round, so when you go is less of an issue.
Summary
Whether you choose to cruise to Hawaii aboard Norwegian's U.S. flagged Pride of America or one of the foreign flagged cruise ships, both are cost-effective ways to see the islands compared to finding lodging and flights around the islands. For instance, flights between islands will run you between $50 and $200, and that doesn't include on-island transportation and lodging.  Taking these expenses into account, it's clear how a cruise in the Aloha State is a great way to go.
—
Erica Kritt works at The Cruise Web — a travel agency that specializes in cruising. The expert cruise consultants focus on providing travelers with the best value for their time and money in finding and booking a cruise vacation.