For Memorial Day 2019, click this link –> 2019 Memorial Day Events on Oahu
—–
The following information is from Memorial Day 2013 for reference purposes only.
Oahu is a great place to go to observe Memorial Day. Wondering what's happening in Honolulu and Oahu for Memorial Day weekend? We've got the scoop!
Memorial Day Events on Monday May 27
Punchbowl- National Memorial Cemetery of the Pacific
The annual Honolulu Mayor's Memorial Day Ceremony with a performance by the Royal Hawaiian Band begins at 8:30am at Punchbowl, the National Memorial Cemetary of the Pacific. The ceremony continues until 10am. This event is free and open to the public.
Parking may be difficult to find, so I recommend you consider taking The Bus. See this link for special Memorial Day bus service for the Mayor's Ceremony in  Punchbowl. For more information about the Mayor's Ceremony, call the Honolulu Parks and Recreation Department at 808-768-3002
If you miss the ceremony, a visit to Punchbowl is still worthwhile on Memorial Day. Local boy scouts honor Memorial Day by decorating the graves with more than 50,000 fresh floral leis that are hand sewn by local school children and residents.
Magic Island Lantern Floating Ceremony at Ala Moana Beach Park 
Thousands of local residents and visitors take part of the annual Lantern Floating Ceremony. It's a peaceful and moving night of remembrance and prayer. This free ceremony takes place from 6pm to 7:30pm at Ala Moana Beach Park — just west of Waikiki. Ala Moana Beach Park (see map) is within walking distance of Waikiki — especially on the western end. Public transportation to Ala Moana Beach Park is available via TheBus. For more information, go to LanternFloatingHawaii.com.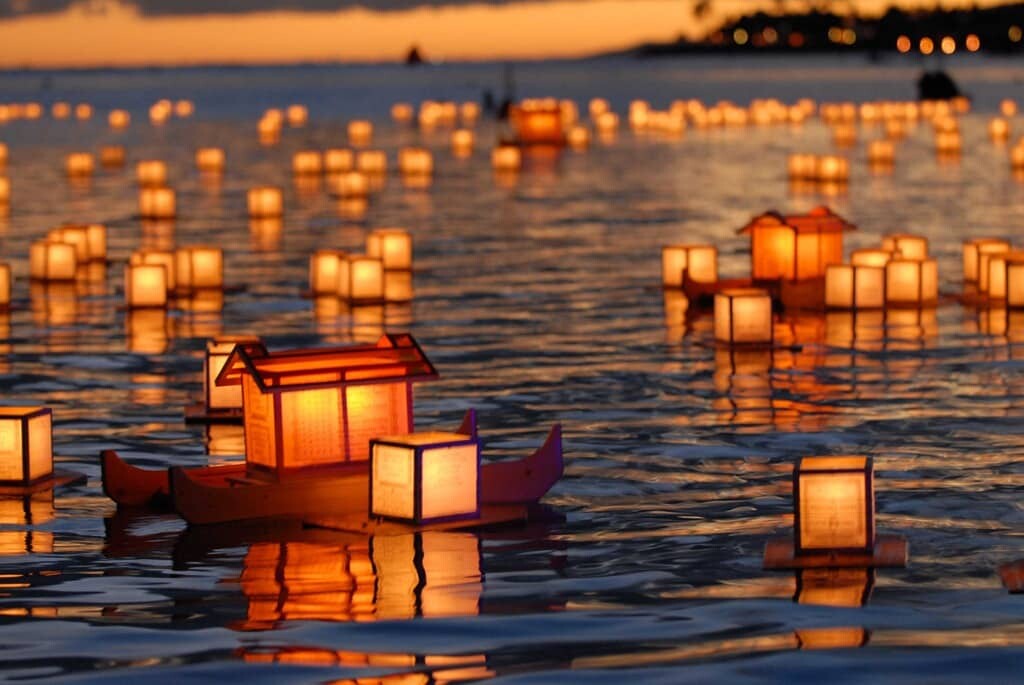 Things to do over Memorial Day Weekend 
In observance of the Memorial Day holiday weekend, I suggest you consider these Oahu attractions.
USS Arizona Memorial in Pearl Harbor
We list a visit to the USS Arizona Memorial as one of the top things you should see and do on Oahu. It's a very moving place to tour and can be an especially meaningful place to visit on Memorial Day. Admission is free. I highly recommend that you get there early in the morning as holidays are particularly popular times to visit. The Visitor Center is open from 7am to 5pm, but the timed programs to the memorial begin at 8am and run through 3pm. Be prepared for your visit by reading Visiting the USS Arizona Memorial at Pearl Harbor.
USS Missouri in Pearl Harbor  
The Mighty Mo played an important role in US history. Visiting hours are from 8am to 5pm. See this link for directions and ticket pricing details as well as my article with advice for touring the Mighty Mo.
Pacific Aviation Museum in Pearl Harbor
This museum displays aircraft that have been important to US military history. Open from 9am to 5pm. See this link for ticketing information.
USS Bowfin Submarine Museum & Park in Pearl Harbor
The Bowfin was an attack vessel significant in WWII. It's open from 7am to 5pm. Admission is $10 for adults and $4 for children.
Other Events Over Memorial Day Weekend – May 24 – 27
– The 50th State Fair opens May 24 at Aloha Stadium in Honolulu.
– Catch the weekly Friday night fireworks show in Waikiki hosted by Hilton Hawaiian Village.
-Free Waikiki Hula Show at Kuhio Beach will be held on Saturday May 25 and Sunday May 26 at 6:30pm.