Outstanding new enhancements at Four Seasons Resorts Lanai
As we wrote back in January, Four Seasons Resort Lanai at Manele Bay announced the completion of some significant resort enhancements. After seeing the photos they shared on Facebook, we had to make plans to go see the resort changes as part of our February Hawaii trip. Oh my, from our visit, we found out that they managed to elevate an already fantastic resort to a whole new level of beauty and comfort.
A fresh, modern island design
The previous decor reflected an elegant, Asian-inspired design with murals, art, furniture and antiques with Asian influences. It was lovely and we liked it, but it did lack a sense of place. The decor didn't remind you that you were in Hawaii. In fact, in some ways it may have unintentionally distracted from Lanai's true identity. The following photo depicts the previous Asian-influenced design.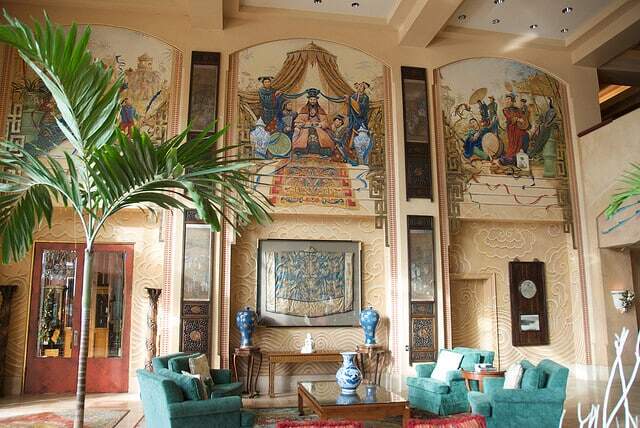 Here's another photo of the previous design that's useful for comparison.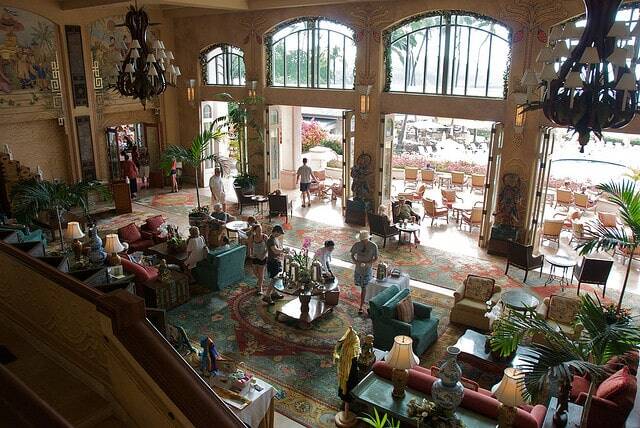 In December, the resort completely transformed the lounge area below the lower lobby. The previously elegant but somewhat stuffy furnishings were traded for a simple, more modern design. To us, it's much more inviting. The following photo shows the new design.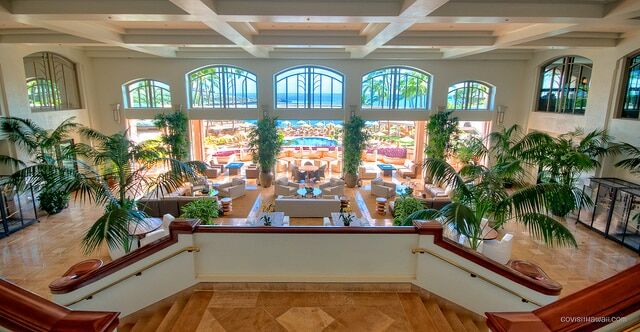 I can't imagine how painful it might have been to paint a simple fresh white coat over those beautiful murals, but, wow, what a transformation! The muraled-walls no longer compete with the view of the beautiful blue Pacific. The amazing scenery now takes the focal point.
The furnishings are much more relaxed as well — more appropriate for an island destination.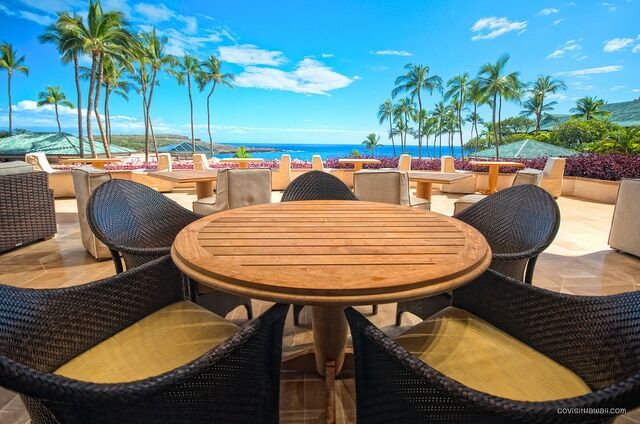 The lower lobby lounge is a great place to take in views as daylight gives way to night.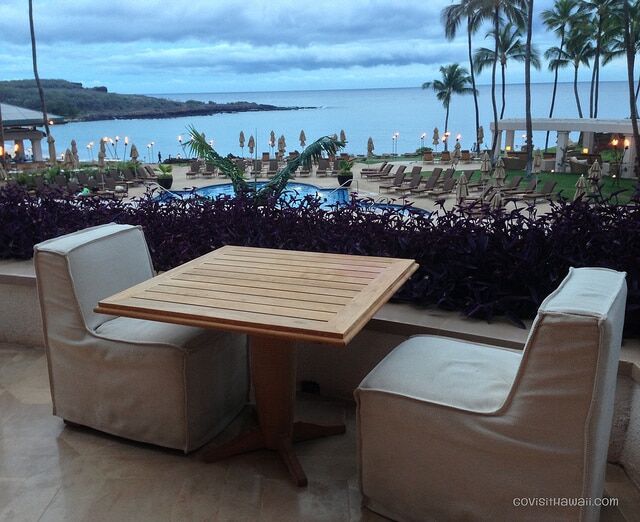 The sofas and tables with fire pits create a romantic setting once the sun goes down.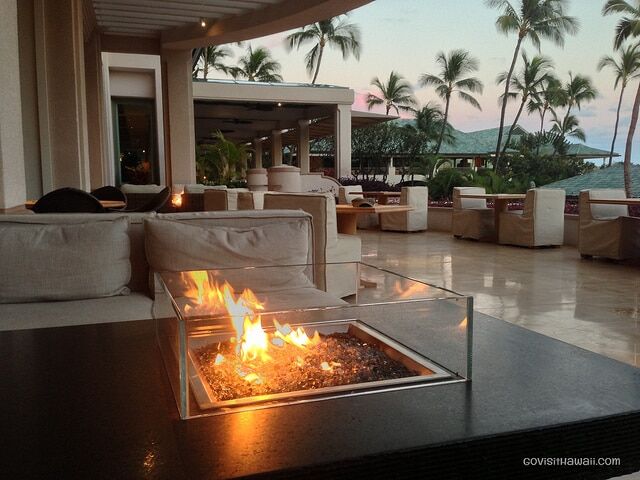 Fantastic new restaurants and menus
In addition to the wow factor of the new design, the dining options have been enhanced as well. Though Lanai is one of the smallest Hawaiian Islands, it's big on taste. In fact, we think Lanai is a great island for foodies — especially with the new menus and restaurants.
Nobu Lanai is the most notable addition to Lanai's restaurant offerings at Four Seasons Resorts Lanai at Manele Bay. This open-air restaurant climbed onto our personal list of favorite Hawaii restaurants. I'll write more about Nobu Lanai in a future post. In the meantime, I'll simply say that it's unique, delicious, romantic and definitely worth flying 13+ hours to get there.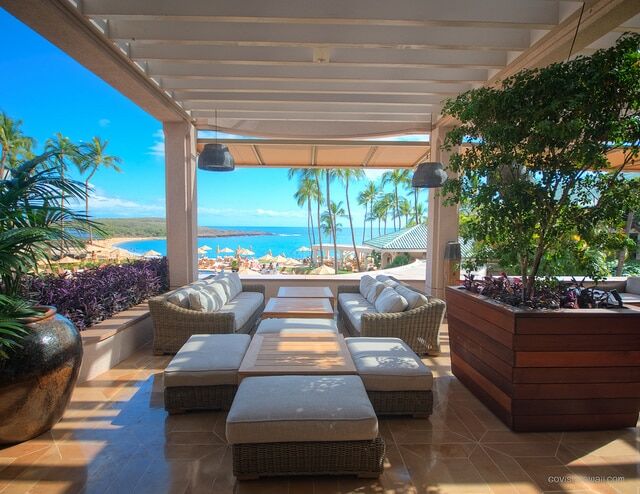 Hulopoe Court has been renamed to One Forty. This open-air, ocean view restaurant has been redesigned to reflect the resort's modern, island decor. Flavorful, thick steaks along with fresh local Hawaiian fish highlight the menu. Just on an amusing side note, as a southerner, I grew up on cornbread. One Forty's cornbread is outstanding — so fluffy and flavorful.
For such a small island, Lanai offers lots of dining options. In addition to the great restaurants at Manele Bay, guests can take a quick shuttle up at the Four Seasons Lodge at Koele for more options. The award-winning Dining Room has a new menu with a 100% focus on sustainable ingredients sourced from around Hawaii. Their tasting menu is perfectly portioned and oh, so delicious! Their Pineapple creme brulee is one of the best desserts we've ever had – ever. (Thank you Andy for sharing your dessert with me!) The service here is exceptionally gracious.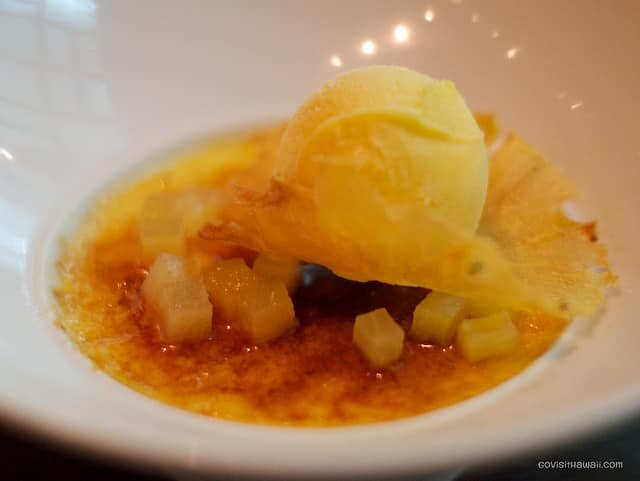 The Terrace at Koele has also changed their menu as well. The restaurant has somewhat relocated to be huddled around one of the grand fireplaces in the Great Hall. Though, I believe they've not settled on that location.
We love that the Four Seasons Lanai restaurants are always evolving. With each return visit, we enjoy trying new dishes. Our tastebuds are never bored.
With all the new restaurant changes, I need to revise our Lanai dining guide soon.
New outdoor furnishings and pool design
We've grown out of the desire to tan, so we were glad to find the rounded, canopy-covered pods built for two. I took a nice rejuvenating nap, lulled to sleep by the sound of the ocean, in one of the oceanfront pods. Aren't ocean side naps some of the best naps?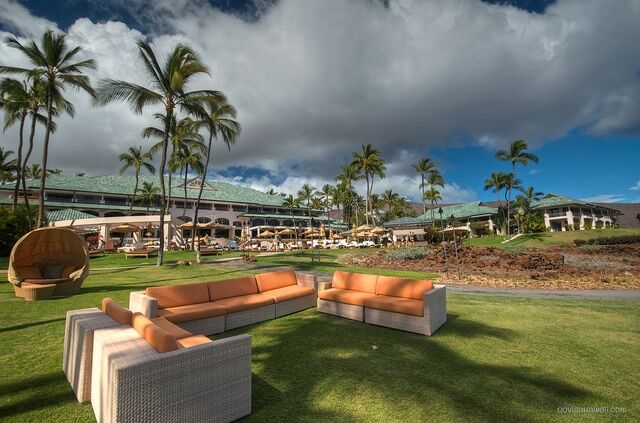 The pool furnishings have been upgraded. They, too, reflect a simpler design with sand and earth tones.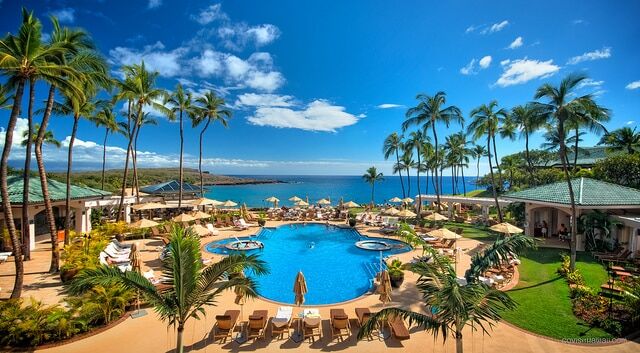 Gardens transformations
We noticed changes in the gardens that are woven throughout the resort. Previously, the gardens had themes — some with, you guessed it, Asian themes. Those themes are gone. The gardens remain beautiful, but perhaps a little more colorful. Walking by the gardens is one of the things I love most about staying at Four Seasons Lanai at Manele Bay.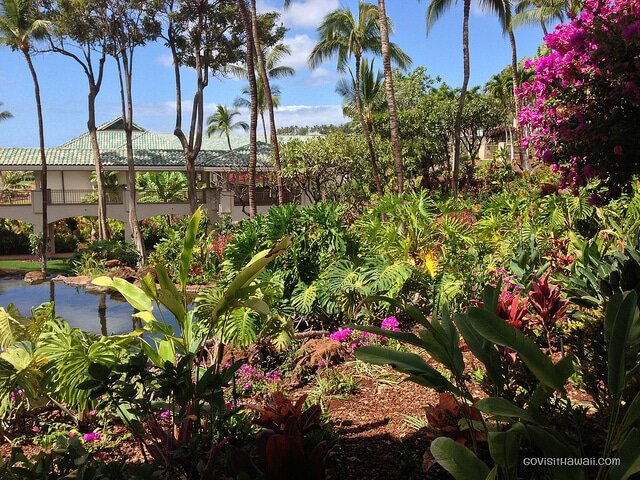 Overall we were very impressed with the new enhancements which make Lanai an even better Hawaii vacation destination.