Hawaii Honeymooners Guide: Kauai Honeymoons
We kick off our series of where to honeymoon in Hawaii with the lush garden isle of Kauai. There's something about Kauai that I find to be particularly romantic. From the moment you land on Kauai to take in a 360-degree survey, you know that love will flourish here — from the rough-hewn, verdant mountains to beaches lined with swaying palms. It's spectacular!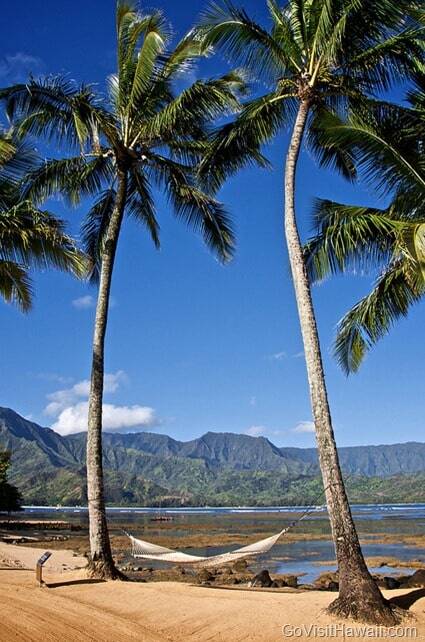 I could probably write a book on Kauai for honeymooners, but with this series, we want to highlight some of the features that might appeal to honeymooners. We'll also cover some frequently asked questions.
What's unique or special about Kauai?
I find that Kauai is small enough that it's not overwhelming, but big enough to offer plenty to see and do. You can take a leisurely, scenic drive from one end of the main roads to the other end of the main roads in under two hours.
Kauai feels uncrowded. It's not unheard of to find a stretch of beach that feels like you have it all to yourselves.
The incredible landscape of the Na Pali Coast with rugged cathedral-like mountain spires, waterfalls and deserted beaches can only be seen by sea, air or on foot. We highly recommend a romantic sunset catamaran cruise to see the Na Pali coast and/or a helicopter tour.
Speaking of helicopter tours,Kauai is amazing for helicopter tours. So much of the island's interior is inaccessible, but a helicopter tour offers views of this untouched beauty.
Of course you can spend your days soaking in the sun and surf on one of Kauai's many beaches. You could also meander around the island for sightseeing, but Kauai is ideal for adventure enthusiasts. Hiking, biking, kayaking, snorkeling and ziplining are some of the ways you can spend your days. Activities like these create lifetime memories.
Kauai offers some of Hawaii's best hiking trails with views that reward your effort. For example, the first two miles of the Kalalau Trail will get your heart pumping with the challenge of the trail and views of the NaPali Coastline. Waimea Canyon and  Kokee State Parks offer miles of great hiking trails.
Kauai also offers some of the best kayaking in Hawaii. In fact Kauai is the only island with navigable rivers. For a kayaking challenge, check out the 17-mile ocean kayak trip of the Na Pali coastline. It's been rated as the second best US adventure.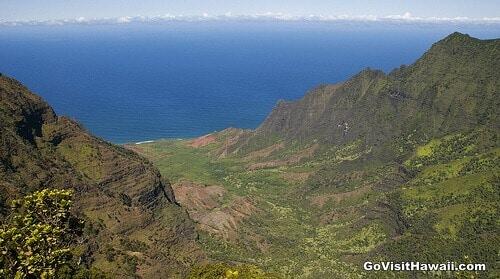 Tours and activities well suited for honeymooners and romantics
I've already mentioned a helicopter tour and seeing the Na Pali coast via a catamaran cruise. Some other tour and activities that honeymooners may like are:
Kayaking the Wailua River and hiking to Secret/Sacred Falls for a dip in pool below waterfall. See our post: Kauai's Secret/Sacred Falls Kayak & Hike.
Catching a Kauai luau.
Romantic stroll through tropical gardens
Snorkeling – there are plenty of places where you can snorkel right from a beach or tours offer more safety.
Mountain tubing
Sunset picnic
Simply driving around the island to see waterfalls, canyons and valleys. Use this link to point you to some of Kauai's top scenic attractions.
This list is not exhaustive, but enough to give you an idea of some fun things you can do.
Kauai's romantic dining
We have watched Kauai's cuisine improve and flourish over the many years we've been visiting. You'll find many restaurants that adhere to the local farm-to-table concept. We keep a running list of what we consider to be the best Kauai restaurants.
You will find many Kauai restaurants with ocean and/or lush garden views. They are very romantic. In our opinion, you can find the most romantic dinner view in all of Hawaii at the Makana Terrace at the swank St. Regis Princeville.
How many days are needed for a Kauai honeymoon?
In my opinion, you need a minimum of five days for a Kauai vacation. Of course more time is better. We've been to Kauai several times for about a week or so at a time and we've still not seen and done everything we'd like to do.
Many people like to see as many islands as they can, but If you only have a week, I recommend you stick with one island. I recommend that you consider visiting other islands only If you have 10 days or more for your honeymoon. The reason I recommend that is to lessen the stress, hassle, money and time required for transferring from one island to another. Hawaii is best enjoyed on a relaxed pace.
How are the Kauai accommodations for a honeymoon?
You can find accommodations to suit just about any budget. You can find nice, clean oceanfront, three-star resorts from about $125 per night. On the opposite end of the spectrum, you can also find five-star luxury. Learn a bit more from our page on where to stay in Kauai.
How much will a Kauai honeymoon cost?
Use our Hawaii vacation budget calculator to help you estimate your own budget.
Are there any cautions about a Kauai honeymoon?
The weather is best for Kauai honeymoons from April/May through October/November. Kauai is the wettest of the Hawaiian islands and most of the rainfall is in winter months. That being said, it would be very unlikely that you'd encounter rain every day. See our post – Where to stay on Kauai for the best weather – for advice.
Additional resources to help you plan your Kauai honeymoon or romantic trip
Check out our Kauai vacation guide for more specific Kauai trip planning details. Our customizable, one-week Kauai vacation itinerary and travel planner makes a Kauai honeymoon so easy to plan. Also review our popular first-time guide to Hawaii vacation planning.