Hawaii Vacation Deals & News: December 5, 2012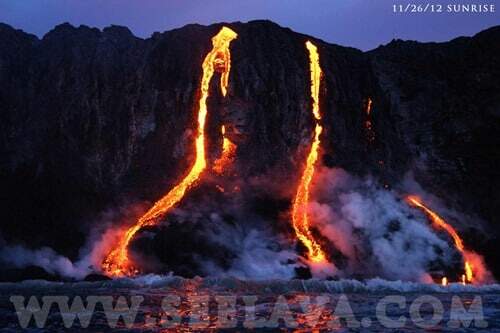 * Lava is flowing to the ocean once again on Hawaii, the Big Island! Our friends at Lava Ocean Adventure posted this video showing scenes they've shot within the last few days. The above photo is also courtesy of Lava Ocean Adventures.
(Email subscribers – click here to access the video.)
* The 2013 Hawaii Entertainment books are on sale for $19.99 with free shipping and handling if ordered through December 9. Per our post on these coupon books, readers say they definitely help save money – particularly on Oahu luaus. Though the book's name suggests that there are coupons for all islands, I only recommend it if you're going to Oahu. These books would make a great gift or stocking stuffer for the Oahu nut on your Christmas list if the are vacationing there before November 1, 2013.
* Chai's Island Bistro at the Aloha Tower is closing on December 31, however Chef Chai Chaowasaree will be opening a new restaurant on Kapiolani Boulevard in February per the Star Advertiser . If you can get out to the Aloha Tower before the current restaurant closes, the entertainment calendar is superb. You can see that calendar here, though you may need to navigate from November to December. The new restaurant will offer healthy options without the use of butter. (Paula Deen would gasp in surprised disappointment.)
* You know that convenient gas station that's located adjacent to the rental car return place at the Honolulu Airport? It closed last week per this Hawaii News Now story. That's a bummer.
* We are grateful that Go Visit Hawaii was named the top destination travel blog by vote at the Luxury Travel Mavens.
* We were excited to discover our facebook page for Go Visit Hawaii was nominated as one of the best travel Facebook sites. Yay! Please vote for us here with just two quick clicks.