Hawaii Holiday Happenings 2012
With Thanksgiving just two days away, the holiday season is upon us. If you are one of the many lucky ones planning a trip to Hawaii in late-November and December, you'll certainly find fun events and things to do to celebrate the season.
My friend John Fischer, who writes at About.com's Go Hawaii site, has prepared some excellent lists of holiday events across all the major Hawaiian islands–  from Thanksgiving up until Christmas.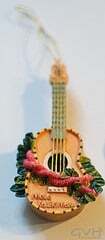 From John's lists, you'll find everything from parades to holiday lights to concerts to Santa arriving by outrigger canoe. Here are links to his articles organized by island.
Holiday/Christmas  events on Hawaii, the Big Island
Kauai December/Christmas events
Maui December/holiday events (In addition, see our list of the top things to do on Maui for Christmas.)
Mahalo to John for preparing these lists for visitors. Trust me when I say that creating articles like those are very, very time consuming.
Will you be going to Hawaii over the holidays? What event are you hoping to catch?
—
P.S. In case you're wondering, I still aim to create our annual Waikiki/Honolulu Christmas mega-list soon. If you've not already done so, subscribe to our free updates so you'll be in the know. UPDATE: here's the mega list of where to dine and Christmas celebration events in Waikiki.