NCL's Pride of America to spiff up in 2013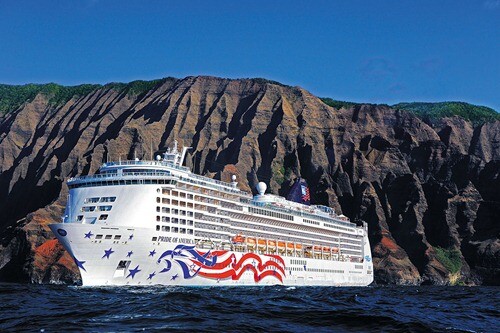 Norwegian Cruise Line announced plans to revitalize their ship that's currently dedicated to a continuous 7-day Hawaii itinerary. The Pride of America will enter dry dock for 14 days starting March 23, 2013.
The $30million investment will include improvements like:
– Addition of 24 ultra-luxurious suites (Ultra-luxurious, you say? Oh my, do tell me more!)
– Addition of 4 studio staterooms (Great news for solo travelers.)
– New Brazilian-style steakhouse restaurant
– Ship-wide wireless internet connectivity (Yes!)
– New carpeting throughout the ship
– Flat screen televisions in all staterooms (But, who's going to be watching TV when you're cruising the islands of Hawaii?)
– Updated décor in the Aloha Café, the ship's buffet restaurant
– Upgrades to the fitness center
Per the press release, "Pride of America will return to her seven-day Hawaii itinerary departing from Honolulu every Saturday when she returns to service in early April 2013. Ports of call include an overnight in Kahului, Maui; Hilo, Hawai`i; Kona, Hawai`i; an overnight in Nãwiliwili, Kaua`i; and an afternoon cruise past the breathtaking Nãpali Coast."
Though I've been to Hawaii many times for land-based vacations, I've really wanted to take a cruise of Hawaii so that I can report the experience back to you. A cruise of Hawaii seems like a great way to see the four major islands in just a week. Maybe it's time for me to check with my travel agent.
Have you cruised Hawaii? Which line did you use? How was your experience?