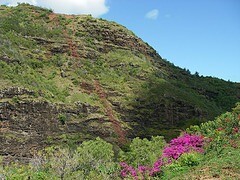 Airfare can be one of the biggest expenses for a Hawaii vacation, but these news nuggets should help alleviate some of that pain in the wallet. With new, direct East Coast routes opening seats, pricing should become more competitive.
– Hawaiian Airlines began service from New York's JFK airport this past week. They currently have flights on sale starting at $757 roundtrip between JFK and HNL over the travel period of August 21 through November 14, 2012.
– United Airlines also began offering direct East Coast flight last week – Washington Dulles (IAD) to Honolulu (HNL). Late summer and fall fares start as low as $743 roundtrip.
– Hawaiian Airlines and Jet Blue announced a codeshare partnership. The passenger benefits of the codeshare are that it will allow passengers to more conveniently connect and earn frequently flier miles.
– American Airlines recently enhanced their AAdvantage program to  allow their awards to be booked for Hawaiian Airline flights.