Skateboarders ride down Haleakala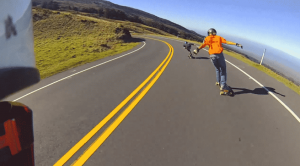 Riding down Haleakala on skateboards — that just might be a definition of insanity. These daredevils not only did just that, but they filmed it as well. Wowzers!
If you are not familiar with the road from Haleakala summit, it's steep with switchbacks galore.

(Email subscribers: click here to access the video.)
From the looks of the video, I don't believe these skateboarders started their decent from the very summit of Haleakala. It also looks like they managed to avoid the rush of cars and bicycles coming down from the summit after Haleakala sunrise.
Two last things about this video:
We do not recommend you try this on your Maui vacation.
I bet they didn't try skating uphill. 😉
Mahalo to Dave for sending this video to my attention.