Aloha Friday Photo: Sunset at Sunset Beach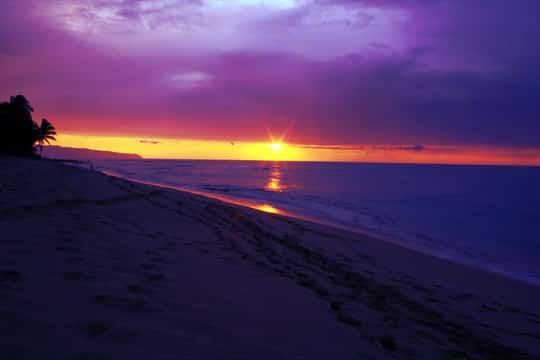 Today's beautiful Aloha Friday Photo was taken on Oahu's Sunset Beach by Scott Harmon of Salt Lake City, Utah.
Scott and his wife, Jane, recently enjoyed their first trip to Hawaii. They spent four days in Waikiki and four days on the North Shore at Sunset Beach. That's a great way to have two different vacation experiences on the same island.
Scott had this to say about his trip, "It was amazing! We loved the different activities and things to do/see while in town and we also loved the beaches and relaxing on the North Shore."
Scott tells me that he's already starting to plan his second trip. Then he had these nice words to say about Go Visit Hawaii, "Love your website. It helped us make our 1st trip to Hawaii last month- perfect!"  That's music to my ears, because that's what we aim to do – help people make the most of their Hawaii vacations.
Mahalo for sharing your beautiful sunset photo with us and for the kind words, Scott!