Seeing Kauai's Kalalau Valley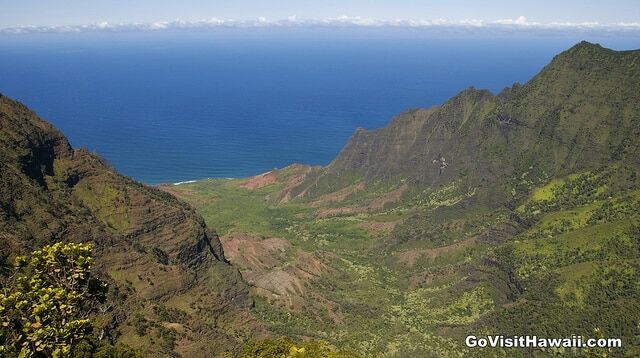 As a friend was planning her Kauai vacation, I reeled off a list of top Kauai attractions. After I mentioned, seeing the Kalalau Valley, my friend asked, "But, doesn't that take a long hike to see?" Instantly, I detected that she thought that you had to hike the entire 11 miles of the cliff-hanging Kalalau Trail in order to see the Kalalau Valley. Fortunately, that's not the case!
Getting to the view points for Kalalau Valley is easy. All you need is a car and a map that includes Highway 550, Kokee Road. To create your own directions, see this Google Map.
There are two Kalalau Valley viewpoints off of Highway 550 — at mile marker 18 and at the end of the highway. I think the viewpoint at the end of the road is the best one, but I encourage you to stop at both of them. Both viewpoints are wheel chair accessible.
Weather conditions in the valley are very changeable. If it's cloud-filled when you arrive, wait a bit to see if it clears up or try again later. We've visited this area several times. On two of visits, the valley was filled with clouds when we arrived. On the first instance, we just waited patiently for about 15 minutes and the valley cleared long enough for us to enjoy the view and capture some photos. For the second instance, we decided to go try our hike into Waimea Canyon and come back afterwards when the valley was sunny.
There's plenty of other great views so see around Kalalau Valley. See my post about Waimea Canyon and Kokee State Parks for tips and recommendations. For the outdoor adventurer, Waimea Canyon and Kokee State Parks offer excellent hiking trails, with Canyon Trail being one of my favorites.
Hopefully you can see how easy it is to see this beautiful valley. There's no challenging hiking required. Please don't miss it.