Punaluu Beach — A Big Island Black Sand Beauty

On the southeast coast of Hawaii's Big Island, you'll find a picture perfect black sand beach at Punaluu. Here, the black sand seems to intensify all the surrounding natural colors. It's an eye pleaser, for sure!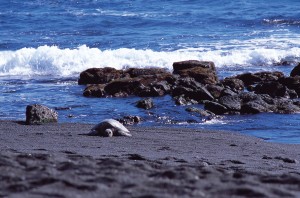 This black sand beauty is easy to access without a hike, unlike some others on the island. Punaluu is located directly in between Hilo and Kona, so it's a toss up as to which way is easier depending on which side of the Big Island you're staying. (See my article, Where to Stay on the Big Island, to help you with your decision.) When we're spending a few days on the Hilo side, we stay in the the Volcano area, which is much closer to Punaluu. See the following Google Map to help you navigate to Punaluu.

View Larger Map
And, if you're hungry while you're in this neck of the woods, check out the Punalu'u Bake Shop just down the road in Naalehu.
—-
See more ideas of what to see and do on Hawaii's Big Island.