Staying Safe On Your Hawaii Vacation
Overall, Hawaii is a safe vacation destination. As we discussed in the 8 Myths of Hawaii Five-O article, Hawaii's crime rate is low.
You don't have to worry about stumbling upon scary snakes in Hawaii , including poisonous snakes. The most vicious critter you might encounter is a mosquito. That's my kind of destination!
With all that said, you do need to take care and avoid certain situations on your Hawaii vacation. In this article, we'll discuss some of the more common safety hazards that tourists might encounter.
OCEAN SAFETY
Hawaii's beautiful blue ocean waters can sometimes appear to be deceivingly safe. I highly recommend that you check  Hawaii Beach Safety website before you plan your swimming and snorkeling activities. This excellent site provides real-time beach alerts, list of recommended beaches and a list of beaches with lifeguards.
Some other ocean safety tips and ditties to keep in mind:
Never turn your back to the ocean. When you are swimming or even waking by the shoreline, you never know when a strong wave might sneak up on you. So it's best to be watching the ocean and aware. Actually, this very sad news of a missing tourist at Nakalele Blow Hole on Maui prompted me to write this entire post. He had his back to the ocean when he was knocked by a large wave.
If in doubt, don't go out. If you aren't sure of the conditions, please don't go out.
Don't swim in isolated areas.
Check for posted safety signs.
When possible swim at beaches with lifeguards.
Avoid swimming at night, dawn and dusk. Why then? Well, that's when sharks tend to be the most aggressive and active. See more shark avoiding tips here.
On Oahu, Box jellyfish usually arrive to the near shore approximately 7 to 11 days after the full moon of each month. For Oahu, check this Box jellyfish arrival prediction calendar.
Learn more about Hawaii beach safety and current conditions at the Hawaii Beach Safety website.
HIKING SAFETY
Hawaii's hiking trails are oh so rewarding with outstanding views that make the trek more than worth it. I encourage you to check out at least one of the many great trails on your Hawaii vacation.
Overall hiking in Hawaii is quite safe, but use these savvy hiking tips to prevent any unplanned visits to the urgent care:
Wear proper footwear like hiking shoes, hiking sandals or at a minimum a trainer or running shoe with gripping tread. We like to wear a hiking sandal with a close toe. Flip flops do not qualify for proper footwear. Over our numerous Hawaii hikes, I've seen so many people struggling on the trails with flip flops. Actually, I saw one guy struggle to the point of falling in slippery mud.
Bring water. I recommend bringing a little bit more that what you think you might need.
Avoid the danger of flash floods by not hiking where rain is in the forecast. Never attempt to cross a flooded stream. Flash floods in Hawaii can be extremely hazardous and even fatal.
Keep on the designated paths to prevent getting lost and stranded. It is important to stay on the marked paths at all times, but I would like to add that it's even more critical that you stay on the path over lava fields — where you can easily lose your orientation.
Wear mosquito repellant for your comfort and safety.
Ideally, use a walking stick to help keep you stable over uneven or steep paths. Collapsible walking sticks work quite well and are easy to pack for travel.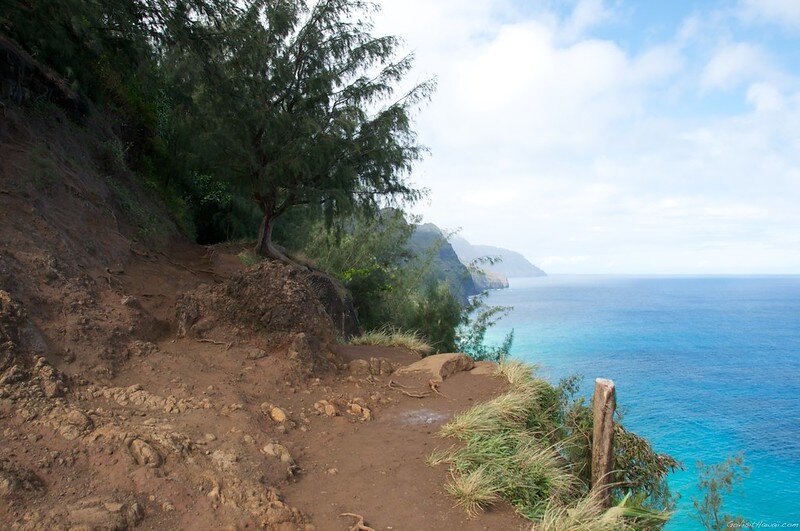 OTHER GENERAL TIPS
Wear sunscreen and/or other forms of sun protection. Hawaii's proximity to the equator, puts you closer to the suns strongest rays. Wear sun protecting products with SPF/UPF much higher than what you would wear on the mainland. Check out these tips for avoiding a sunburn on your Hawaii vacation.
Don't venture beyond guardrails. They are there for your protection. Sadly, two people died a few years ago because they had ventured beyond guardrails to get closer to waterfalls.
Don't drink water from streams without chemical treatment. Streams in Hawaii can contain Leptospira, a bacteria that's causes Leptospirosis, a mild to severe flu-like illness. Read more about Leptospirosis in Hawaii.
Avoid swimming in streams or the ocean with brown water as that water could likely be contaminated. Check local news for brown water advisories.
Don't eat the yellow snow. Okay, that was just a check to see if you were actually reading.
What other Hawaii vacation safety tips would you add?